For the Record, Pay No Attention to the Record
A congressman says he never supported a bill, but his name never really goes away.
by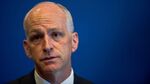 With five guys named Smith serving in the U.S. House of Representatives, maybe this sort of thing was to be expected: A colleague got a bit mixed up about Adam Smith of Washington and Adrian Smith of Nebraska.
Now Adam, a Democrat, would like to make sure no official document ever again confuses him with Adrian, a Republican.
From the Jan. 14 Congressional Record, here's how he described what happened:
"Representative Diane Black signed me on to H.R. 217, which is a particularly strong anti-choice bill and a bill that I would never support," he said. "She thought it was Adrian Smith she was signing on to the bill."
Adam's beef: "On the bill that is out there with the original cosponsors, my name does not simply disappear. A line is drawn through it, and it is said next to it, 'withdrawn,' as if, at some point, I did cosponsor the bill and then changed my mind."
The bill would bar federal family-planning grants to entities that perform abortions, except in cases of rape, incest, or a threat to a woman's life.
Adam Smith said a strong letter will follow to Speaker John Boehner and Minority Leader Nancy Pelosi urging a new practice be instituted for cases like this: "When it is clear that someone signs you on to a bill you had no intention of being on—your name should be removed. Period. End of story."
Before it's here, it's on the Bloomberg Terminal.
LEARN MORE