Christie Decision to Run for President on Hold Until After Jan. 21
Terrence Dopp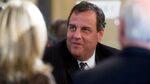 New Jersey Governor Chris Christie, considering a 2016 run for president, told a meeting of South Carolina Republicans that he won't make an announcement until after Jan. 21.
Phyllis Henderson, a state representative, said Christie made the statement during a closed session with about 50 elected Republicans, party leaders and executives at a law firm in Columbia. Christie served as chairman of the Republican Governors Association last year and said he wouldn't make an announcement until after the final swearing-in of a Republican governor, Maryland's Larry Hogan.
"He was very clear that he made a commitment to other Republican governors that he was not going to do anything political until the last inauguration," Henderson said Thursday in a telephone interview. "He had a job to do as chair of the RGA, and I don't think he wanted anybody to think he was using that as a campaign tool."
Christie, 52, has said inauguration of Maryland's Larry Hogan upset win was one of the biggest surprises in an election that saw his party add two seats to the 29 statehouses they already controlled.
The second-term governor has said he's mulling whether to seek the White House, and the Wall Street Journal reported this week that Ray Washburne, former Republican National Committee finance chief, had left to head Christie's fundraising team.
Announcements by former Florida Governor Jeb Bush and twice-unsuccessful candidate Mitt Romney that they are taking steps toward a run have prompted some to call for Christie to accelerate his timeframe.
Before it's here, it's on the Bloomberg Terminal.
LEARN MORE