Where the Similarities End Between House Republicans' 2015, 1947 Majorities
Republicans constructed their current House majority very differently compared with seven decades ago, driven partly by shifts in their geographic support base.
by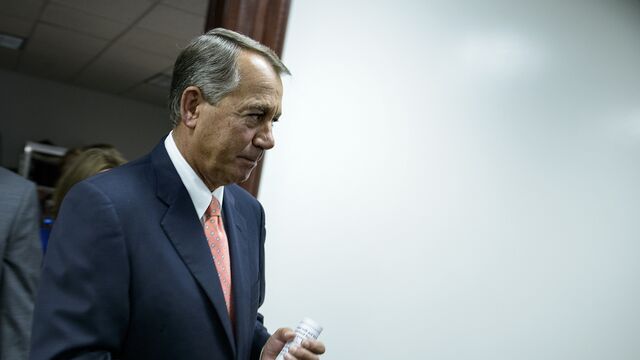 The U.S. House convened last week with an expanded majority of 246 Republicans, matching a post-World War II high-water mark set after the 1946 election. Throw in the New York district that Michael Grimm vacated before the new Congress organized, and Republicans actually won more House seats last November than they had since the 1928 election.
There's only a surface similarity between the Republican majorities of early 2015 and early 1947, though. As the chart below shows, Republicans constructed their current House majority very differently compared with seven decades ago. The two major parties have changed, along with their geographic bases of support.
Today's House Republican majority is skewed toward the South, which was a Democratic bastion for most of the period following the end of the Civil War. As hard as it is to imagine today, there were no Republican representatives in most of the southern states in 1947. You saw exclusively Democratic House delegations in states that we readily associate with Republican strength today: Texas (21 Democrats and no Republicans), North Carolina (12), Georgia (10), Alabama (nine), Louisiana (eight), and Arkansas (seven). Republicans hold 25 of 36 seats in Texas, 17 of 27 in Florida, and 10 of 13 in North Carolina, aided in part by favorable redistricting and migration patterns.
Still stymied in the South in 1947, Republicans instead constructed their majority by building huge majorities in the midwest and northeast. They had advantages of 28 to five in Pennsylvania, 28 to 16 in New York, 20 to six in Illinois, and 12 to two in New Jersey. All are Democratic-leaning states today (though Republicans in Pennsylvania hold most House seats after redrawing congressional lines to take full advantage of an inefficient packing of Democratic voters in the Pittsburgh and Philadelphia areas).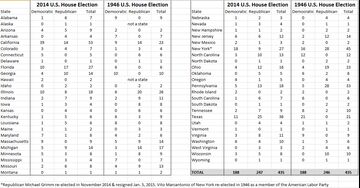 So why the shift? Among the reasons: the two parties have ideologically sorted themselves out and congressional elections have become more nationalized. Conservatives dominate the Republican Party and liberals and progressives prevail in the Democratic Party, with little ideological overlap. Straight-ticket voting is more prevalent.
Democrats and Republicans in 1946 were "still very sectional," said Tom Davis, a former Republican congressman from northern Virginia who led his party's campaign committee and is a co-author of the book, "The Partisan Divide: Congress in Crisis." 
"Republicans really over-performed in the Midwest and the north. You still had some safe seats in urban areas for Democrats, but just about everything else got swept out. You take a look now at the coalitions, and they've just completely flipped," he said.
The House Republican majority today probably is more durable than in 1946, when there were far more swing seats. Democrats won the House back in 1948, when President Harry S. Truman campaigned against what he called a "do-nothing" Republican Congress. Republicans in 2016 are favored to keep their House majority, even if they lose the presidential election.
"Republicans in '46 didn't know how to hold a majority. These guys know how to hold it," Davis said. 
The chart shows how the 435 House seats have been dramatically redistributed among the states during those seven decades. Above-average population growth in the Southern and western Sun Belt states, where jobs and land were plentiful, meant those states gained additional House seats at the expense of slower-growing Rust Belt states in the industrial midwest and northeast that were long dependent on large-scale manufacturing. New York, the most populous state in 1947, has slipped to fourth, lapped by faster-growing California, Texas, and Florida.
California has 30 more House seats than it did in 1947, and that net gain has been exclusively Democratic. Put another way, Republicans hold no more seats in California today (14 of 53) than they did in 1947 (14 of 23), when the delegation included freshman Republican Richard Nixon.
Another Democratic bastion, Massachusetts, hasn't elected a Republican to the House more than in two decades. This is a departure from 1947, when the northeast still had a tradition of moderate-to-liberal Yankee Republicanism, and most members of Congress from Massachusetts were Republicans.
In the state's congressional delegation that year: a freshman, minority-party Democrat named John F. Kennedy.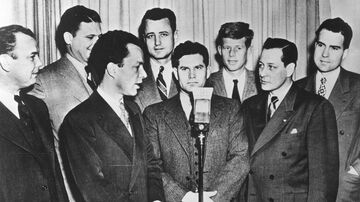 Before it's here, it's on the Bloomberg Terminal.
LEARN MORE