Rand Paul in New Hampshire: Against 'Luddites,' Not Sweating Mitt or Jeb
The Kentucky senator returns to the Granite State.
by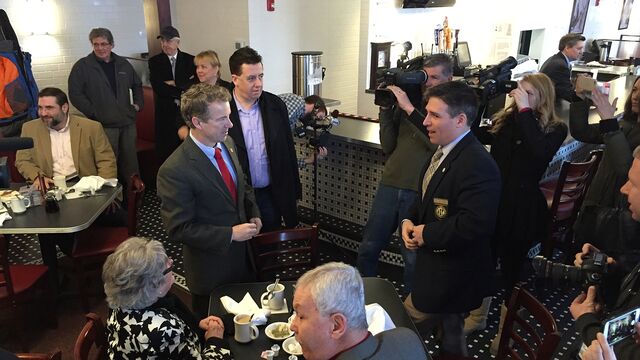 MANCHESTER, N.H.—Rand Paul's first New Hampshire visit since the midterms began on home turf. Murphy's Diner, owned by Republican state Representative Keith Murphy, had been a meeting place for supporters of the 2012 Ron Paul campaign. Murphy himself had endorsed the elder Paul, and the younger Paul sometimes used the sprawling bar/diner complex near downtown Manchester to meet with local liberty activists.
Many of them—including 20 state legislators—made it to the diner for an hourlong Q&A with the Kentucky senator. Manchester-area Representative Tammy Simmons joked that she "only invited legislators with a B rating or above" from the free-market New Hampshire Liberty Alliance. After Paul delivered a short speech, their questions ranged from the hawkish turn of American foreign policy to how Republicans could run against give-away "Santa Claus" liberalism ("Do you want a cellphone or two cellphones?" joked Paul, referring to a 2012 viral story of government-provided phones for the poor being referred to as "Obamaphones.")
Yet Paul focused on how he—and Republicans, if they were up for it—could be the party of reason and compromise. He plugged a "bipartisan bill" on energy exploration that he'd tried to sell to a Democrat, only to learn that the Democrat simply did not want to drill. Paul asked Republicans to remember a 2008 gaffe from Nancy Pelosi, then still the speaker of the House, in which she seemed not to know that natural gas was a fossil fuel.
"It's a luddite flat earth mentality," he said. "It's, 'Boy, we shouldn't have cars.' We should define this as those who believe in a flat earth and those who don't."
Paul raced from domestic policy to foreign policy and back again, arguing that Republicans could be the party of reason. When one legislator asked Paul whether eminent domain should be used to seize property and build pipelines, Paul took a whack at retired (New Hampshire-born) Supreme Court justice David Souter and suggested that "market transactions" were the better way to take carbon out of the ground. "If it's a 36-inch pipe with gas flowing throw it, I don't want it under my neighborhood," he said.
The limits of Paul's approach came when he got into a pending Supreme Court case that would, if successful, end subsidies for health care plans in states that did not set up their own Affordable Care Act exchanges. "Since over half the states did not do state exchanges, but had federal exchanges imposed upon them—the law specifically says you cannot subsidize these federal exchanges," insisted Paul. "There's like 5 million people in there, and I don't know, a million or two that are heavily subsidized. When their subsidies go away, what's going to happen to the remaining people is that rates will double, triple, quadruple. But the bottom line is you need to decide whether we live in a lawless nation, or a nation of laws."
That's an ongoing debate among Republicans. New Hampshire is one of seven states, including the executive branch home states of Illinois and Delaware, that set up a partnership with the federal government to run its exchange. Paul seemed to be telling libertarian-minded legislators to hold fast in case the court effectively raised insurance premiums. It was important, in advance of the decision, to set up the case as a choice of liberty or tyranny.
When the talk ended, Paul and four staffers walked to the back of the diner to talk to reporters, mostly one-on-one. As he told Politico's Manu Raju this week, Paul said he would not have his father campaign for him in 2016. (The presence of so many legislators who'd endorsed his dad suggested that he didn't really need a booster shot.) And as he's been saying, Paul was looking at a March or April campaign decision, totally unaffected by the surprise early activity of Mitt Romney and Jeb Bush.
"The more the merrier," said Paul. "More options for the voters."
Before it's here, it's on the Bloomberg Terminal.
LEARN MORE