Rand Paul Comes Out Swinging
The Kentucky senator knocks potential rivals Mitt Romney and Jeb Bush.
by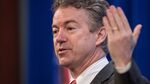 As many congressional Republicans get together in Pennsylvania this week, Senator Rand Paul is heading his own way—to New Hampshire, taking aim at potential presidential rivals while he's at it.
The Kentuckian, who is widely expected to announce a run for president this year, told Politico on Tuesday that former Florida Governor Jeb Bush is a "big-government Republican" and 2012 nominee Mitt Romney has "had his chance."
His comments come as Bush and Romney ramp up consideration of 2016 bids, setting up potential clashes both within the establishment wing and with outsiders like the libertarian-minded Paul. 
Among Paul's targets: Bush's support for Common Core. "He's been a proponent of Common Core, a proponent probably of a much bigger government ... who believes more things should be occurring in Washington rather than decentralization," Paul said.
Bush's team engaged with the criticism without directly counterattacking Paul: spokeswoman Kristy Campbell told Politico that the former governor "would put his successful conservative governing record up against anyone's."
Before it's here, it's on the Bloomberg Terminal.
LEARN MORE