Pro-Gun Group Replays the Charlie Hebdo Attacks—With Armed Victims
The terrorists still won.
by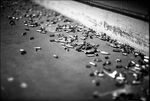 After the attack on Charlie Hebdo last week in Paris, a Texas-based group called The Truth About Guns found itself wondering and worried. As a local CBS anchor put the question, introducing a segment from Plano: "What if: Could any or all of the victims have survived if they had guns?"
Moved to action, The Truth About Guns organized a simulation of last week's attacks at the satirical newspaper's headquarters, which killed 12. On a set designed to look like the Charlie Hebdo office, a dozen people volunteered to take part in a series of simulations, carried out with paintballs.
One volunteer, Parks Matthew, spoke of the need to advance on a threat if he were attacked, rather than "fall" on his four children to protect them. Of the simulation, Matthew said, "I still got killed, but I did better than I thought I would do." In the anchor's words, "He walked away armed with a better understanding of himself."
In none of the simulations were the volunteers able to take out both shooters. In all but one scenario, the volunteers still died. Not exactly reassuring about arming civilians as a security measure.   
Before it's here, it's on the Bloomberg Terminal.
LEARN MORE