Pence Stresses Indiana's Fiscal Rectitude in Scrutinized Speech
Mark Niquette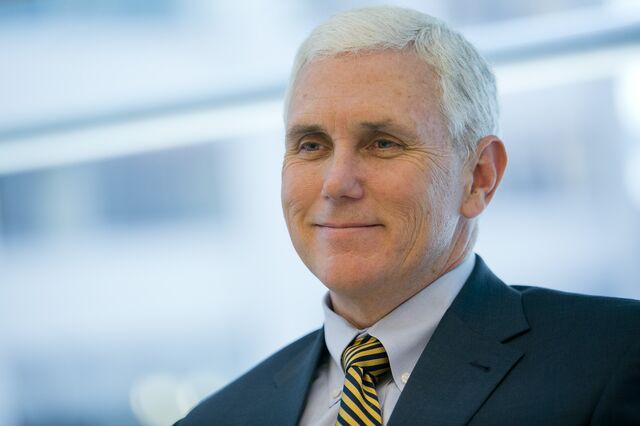 Indiana Governor Mike Pence called for a state constitutional amendment requiring a balanced budget as well as additional funding for charter schools and what he called "the largest educational voucher program in America."
Pence, a 55-year-old first-term Republican, steered clear of explicit appeals for a national role even as he is frequently named as a potential presidential candidate in 2016. In his State of the State address on Tuesday, he said that while Indiana has balanced its budgets in recent years, the legislature should put a measure before voters requiring it.
"A balanced budget requirement in the Constitution will assure Hoosiers that today and tomorrow Indiana will spend wisely, protect our state from an economic downturn, and unlike Washington, D.C., we won't bury our children and grandchildren under mountains of debt," Pence said.
Pence, a former six-term congressman elected in 2012 who finds support among fiscal and social conservatives, also vowed to continue pushing for a federal approval of a plan to expand Medicaid on his terms. It would broaden the state's Healthy Indiana Plan for uninsured low-income adults, which requires they make monthly contributions.
Pence has said he won't announce a decision about running for president until the state's legislative session ends in April.
State Senator Mike Delph, a Republican from Carmel, had introduced legislation to allow Pence to run for re-election and for president at the same time in 2016. Delph said he pulled the bill on Jan. 12 because it lacked support.
"It was primarily focused on giving Governor Pence the opportunity to make a decision about whether or not to run for president without feeling like there were constraints back home in Indiana," Delph said in an interview.
Before it's here, it's on the Bloomberg Terminal.
LEARN MORE