Bobby Jindal to Travel to London to Bash Hillary Clinton on Foreign Policy
The Louisiana governor, and presumptive presidential candidate, is making some headlines of his own.
by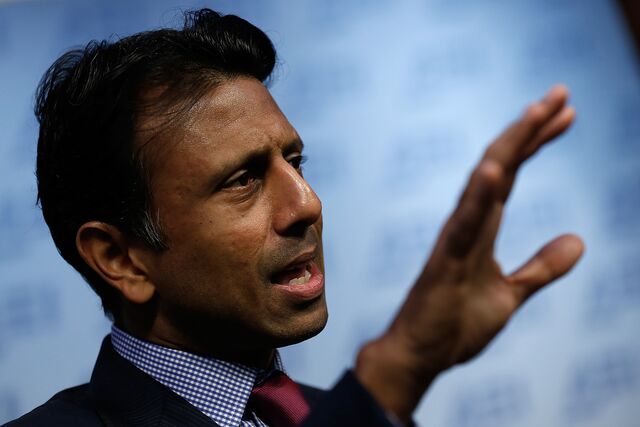 It sounds like the setup for a roaring punchline: Did you hear the one about the Indian-American Republican governor of Louisiana and presumptive presidential candidate who goes to a European capital to deliver a speech in which he attacks an Illinois native turned lawyer turned Arkansas first lady turned U.S.  first lady turned New York senator turned secretary of state over her "mindless naivete?" 
Bobby Jindal on Wednesday released excerpts of a speech he plans to deliver next week in London, including a section that directly responds to what Jindal argues is a Clinton assertion that America should attempt to "empathize" with its enemies. While the context of Clinton's recent words involved the women in the Philippines who brokered a deal to end the 40-year insurgency of the Moro Islamic Liberation Front, for Jindal, they sounded, if anything, like a bad joke. 
"Our former secretary of state in America recently said that we need to 'show respect for our enemies' and 'empathize with their perspective and point of view,'" Jindal plans to say in London, the Weekly Standard reported. "Well, yes, understanding our enemies as a means of destroying them, I'm all for that.  But empathizing with them as if perhaps we can find some common ground, I have no interest in that kind of mindless naiveté."
Adrienne Elrod, a representative of the pro-Clinton group Correct the Record, responded in an e-mail:  
"Bobby Jindal only wishes he had a fraction of the widespread support Secretary Clinton receives, and it's no surprise he's taking her words out of context to try to score a few political points. As secretary of  state, Hillary Clinton often utilized a strategy of engagement rather than isolationism to achieve America's policy goals abroad, one of the many reasons she remains one of the country's most accomplished secretaries of state." 
The bulk of Jindal's speech deals specifically with his belief that the West needs to change its thinking regarding radical Islam, veering away from what he sees as the permissive, cultural relativism being practiced in countries such as France. 
"I believe it is because radical Islamists have been given too wide a berth to establish their own nation within a nation," Jindal will say. "I am encouraged to see France's prime minister speak out against this travesty."
Aside from the desire to have his message heard by world leaders and politicians wishing to become one,  Jindal's speech comes at a time when every day brings headlines detailing the moves by prospective presidential candidates, and opens a new line of attack against the Democratic frontrunner, who has yet to declare her candidacy. 
Still, as a political attack on Clinton, Jindal's remarks only went so far. Much of his planned speech contrasts radical Islam with how Jindal believes religion is viewed in the United States. 
"In my country, Christianity is the largest religion," Jindal, who converted from Hinduism to Catholicism as a teenager, plans to say. "And we require exactly no one to conform to it. And we do not discriminate against anyone who does not conform to it. It's called freedom." 
—This article contains updated information regarding Hillary Clinton's use of the word "empathize" in a speech on a peace deal brokered with the Moro Islamic Liberation Front.
Before it's here, it's on the Bloomberg Terminal.
LEARN MORE