Which Bush is Most Conservative? You Might Be Surprised
Here's how presidential contender Jeb Bush stacks up against the former presidents in his family on immigration, abortion, climate change and same-sex marriage.
by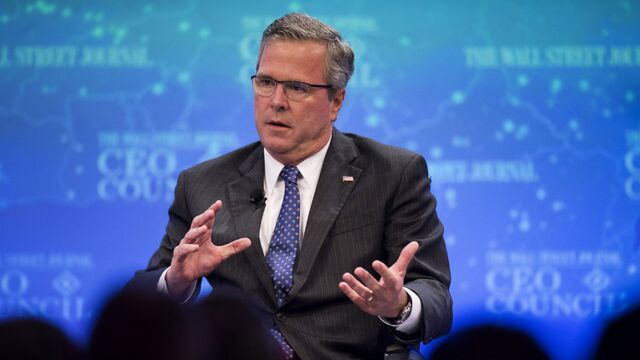 As Jeb Bush prepares to try and become the third president from his family, his policy stances will inevitably be compared to those of his brother and father. His early statements of princple are being likened to George W. Bush's "compassionate conservatism," and Politico reports that former Florida governor is already huddling with his brother's foreign policy experts. The New Yorker's Borowitz Report joked about the prospective candidate's family ties and his recent board of director resignations with the headline: "Jeb Bush Resigns as George W. Bush's Brother."
But when it comes to policy, the three Bush men hold a number of different policy positions, and a fact that, in some instances, highlights the rise of conservatives within the Republican Party since 1989. We've compared the three on five policy issues—climate change, immigration reform, abortion, taxes, education, and same-sex marriage—to give a sense of who has been the most conservative. Based on these issues, it might just be Jeb.
Climate Change
George H.W. Bush: The elder Bush's record on climate change was spotty. As PBS' Frontline noted, he promised on the campaign trail to combat greenhouse gases with a conference that never happened, and Bush later discussed the "scientific uncertainty" of climate change during a meeting in 1990. 
George W. Bush: The second Bush president was also more pro-regulation on the campaign trail than in office. Bush promised to gradually cap greenhouse gas emissions in 2000, but flipped in 2001 after dissent from congressional Republicans, Frontline noted. Environmentalists accused his administration of attempting to undermine and bury climate change research, the Guardian reported in 2009. 
Jeb Bush: In 2009, Bush told Esquire magazine that he's a "skeptic" of man made climate change. 
I'm a skeptic. I'm not a scientist. I think the science has been politicized. I would be very wary of hollowing out our industrial base even further... It may be only partially man-made. It may not be warming by the way. The last six years we've actually had mean temperatures that are cooler. I think we need to be very cautious before we dramatically alter who we are as a nation because of it.
In 2011, he told Fox News that Texas Governor Rick Perry had every right to suggest global warming isn't "a certainty."
Immigration reform
All three Bushes have been open to some sort of pathway to citizenship, though Jeb Bush was criticized for briefly backing away from that support in a book. 
H.W.: President Reagan signed the Immigration Reform and Control Act of 1986, which allowed people who were in the country illegally to apply for legal status and eventually citizenship. Bush was vice president at the time and in 1990, after he became was president, he eased the rules to allow spouses and children of immigrants protection under the law. President Obama pointed to this an a precedent for his 2014 immigration order, but as the Washington Post's Fact Checker noted, the scale of individuals affected was smaller. 
W: Six years into his presidency, in May 2006, Bush gave a speech laying out his support for a path to citizenship. Via the New York Times:
I believe that illegal immigrants who have roots in our country and want to stay should have to pay a meaningful penalty for breaking the law … to pay their taxes … to learn English … and to work in a job for a number of years. People who meet these conditions should be able to apply for citizenship but approval would not be automatic, and they will have to wait in line behind those who played by the rules and followed the law. 
Jeb: He has tried out three different opinions on a pathway to citizenship. In June 2012, he said he would support changes that allowed for a pathway to citizenship. In his March 2013 book, Immigration Wars, (co-authored with Republican lawyer Clint Bolick) he came out against a pathway to citizenship. And immediately afterwards he came out in favor of a pathway to citizenship again, "if there is a difference, you can craft that in law where you can have a path to citizenship where there isn't an incentive for people to come illegally." 
While Jeb has struggled to find consistency on the national stage, as governor of Florida he was very aware of how the immigration debate affected his constituents and his own family. "My wife came here legally, but it hurts her just as it hurts me when people give the perception that all immigrants are bad," Bush wrote in a 2006 email to the Los Angeles Times. According to the Times Bush criticized conservatives to the right of his brother George for their tone on immigration, calling it "just plain wrong" to charge undocumented immigrants with a felony. 
Abortion
At one point both Bush presidents were at least partially supportive of Planned Parenthood and abortion rights. Jeb Bush was not. 
H.W.: At one time, the senior Bush was a supporter of Planned Parenthood and family planning. "He was so supportive of family planning that people called him 'Rubbers,'" Gloria Feldt, a former national president of Planned Parenthood told Roll Call. That ended when he started looking to the presidency. 
As the San Francisco Chronicle wrote, "[b]ut as he began to position himself for the White House within the increasingly conservative GOP, he gradually began to identify himself as averse to abortion [...] ultimately by acceding to presidential nominee Ronald Reagan's demand that, as his vice presidential nominee, Bush embrace the GOP platform's call for a constitutional amendment against abortion. 
W: According to a 2000 story from the Nation, in 1978 Bush told a local Texas paper that he supported a woman's right to choose:
Bush said he opposes the pro-life amendment favored by Reese and favors leaving up to a woman and her doctor the abortion question. 'That does not mean I'm for abortion,' he said.
Bush said he was taken out of context, but at any rate that wasn't his stance as president. In his 2010 memoir Decision Points, Bush described how seeing a dead fetus—his mother's miscarriage—solidified his  views. (Though his mother, Barbara Bush, actually supports abortion rights.) He also signed into law a ban on partial-birth abortions. His pro-life stance included stem cell research—in 2001 he limited federal funding for embryonic stem cell research
Jeb: During his time as Florida governor Bush was overtly opposed to abortion. As Real Clear Politics outlined: 
[H]e signed into law a parental notification measure for teenage girls considering abortion and supported a controversial "choose life" specialty license plate, the proceeds from which benefited organizations serving pregnant women who planned to put their babies up for adoption.

In 2003, he made headlines by asking a circuit court to appoint a representative for the fetus of a mentally disabled rape victim.
Taxes
If Jeb Bush is still looking for a title for his next book, here's an idea: Dreams from My Father: No New Taxes. Jeb and George likely learned their lesson from watching the fallout from his broken tax promise.
H.W.: While campaigning for his first and only term as president, Bush promised he wouldn't raise taxes, famously saying "read my lips: no new taxes." But in 1990 he raised taxes as part of a budget deal, and the rest was history. Here's Bill Clinton's 1992 attack ad, using the line against Bush:
In 2014, the John F. Kennedy Library Foundation awarded him its Profile in Courage Award for having the courage to break his campaign promise, but it's still remembered as one of the most unfortunate quotes ever uttered by a president. 
W: Dubya cut taxes early on in his presidency. The Bush era tax cuts were sweeping changes to the tax code spread out over several years, and lowered income taxes, taxes for businesses, and created new tax breaks. While the cuts mainly benefitted the wealthy, increased income inequality and rose the deficit, they also increased take home pay for middle-class workers, wrote The Washington Post.  
Jeb: While George learned his lesson, Jeb did not. In 2012, during a hearing before the House Budget Committee, Bush said that he would accept a $1 tax increase for every $10 spending cuts, Bloomberg reported. Some might call that compromise, but when the story resurfaced in 2014 he was criticized by several Republicans. 
Bush's team countered that his record demonstrates that he is a tax cutter. "As Florida's chief executive, Gov. Bush cut taxes by more than $19 billion dollars for families and businesses. At the same time, budget reserves in the state rose from $1.3 billion in 1998 to $9.8 billion in 2006," Bush's spokeswoman told The Washington Times in an email. "His record on cutting taxes and exercising strong fiscal discipline speaks for itself." As The Washington Post noted, those tax cuts "chiefly benefited business and the wealthy."
Education
While conservatives bemoan what they call government "meddling" in education policy, all three Bushes have supported policies that increase federal involvement.
H.W.: In his 1990 State of the Union address, Bush listed several education goals, including more testing. "In critical subjects–at the 4th, 8th, and 12th grades–we must assess our students' performance," he said. He'd also proposed "a record increase in funds" towards Head Start, a program that offers assistance to children under age 5 from low-income families.
W: No Child Left Behind was Bush's signature education reform measure, which tried to incentivize schools to perform better. It had bipartisan support when it was passed in 2002, but there's now bipartisan support for changing it. Republicans plan to overhaul the law in the new Congress.
PBS called No Child Left Behind "the most sweeping education-reform legislation since 1965" and noted it "dramatically increases the role of the federal government in guaranteeing the quality of public education for all children in the United States." Under NCLB, children in grades 3 through 8 are tested in math and reading every year. Some opponents argue that the law pushes educators to only teach students to pass standardized tests, and Republicans argue that it's an example of federal overreach. 
Jeb: Common Core, a nationalized set of language arts and math standards for K-12 students, has been called the biggest challenge to Bush's support among conservatives. Conservative detractors have called the national education standards an example of federal overreach, but Bush has called the debate "troubling," Politico noted.  
Same-Sex Marriage
H.W.: The eldest Bush attended a same-sex wedding as an official witness in 2013. 
W: In 2004, Bush supported a constitutional ban on same-sex marriage. "Marriage cannot be severed from its cultural, religious and natural roots without weakening the good influence of society," he said according to CNN. In recent years he's refused to weigh in on the issue, making him the only living president not to support gay marriage. 
Jeb: In a 1994 op-ed discovered by BuzzFeed, Bush argued that LGBT individuals shouldn't have the same protections given to people based on race or religion, writing "[should] sodomy be elevated to the same constitutional status as race and religion? My answer is No." In response to the BuzzFeed report, a Bush representative said the op-ed "does not reflect Governor Bush's views now, nor would he use this terminology today."
Florida started handing out same-sex marriage licenses this month, and Bush's initial response was that marriage should be a state decision, and while the people of Florida voted against it, "it's been overturned by the courts, I guess," he told the Miami Herald. In a follow-up statement he said we must "respect the rule of law" and hoped that people would "show respect to the good people on all sides" of the debate. 
Before it's here, it's on the Bloomberg Terminal.
LEARN MORE