Ted Cruz Says He's Seriously Looking at Running for President
The conservative darling keeps his name in the mix.
by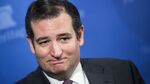 Senator Ted Cruz acknowledged on Tuesday that he is seriously looking at running for the Republican presidential nomination in 2016, a move that keeps his name in the mix as former Governor Jeb Bush of Florida and 2012 nominee Mitt Romney send signals about their own intentions.
During an appearance on "Fox & Friends," Cruz said he expects the field to form in the next several months. Asked why he was waiting to declare, the Texan said he is at least strongly considering a campaign.
"Well, I think everyone is looking at the race right now," he said. "I can tell ya, I've been receiving a lot of encouragement, a lot of support, and I'm looking at it very seriously."
Prior to Tuesday's interview, Cruz's stock response to his 2016 deadline has been that the field will solidify with June, hinting that his own announcement would come by then. But in practice, Cruz has been going through all the steps for a 2016 candidate—trips to Iowa, growing his staff, and even renouncing his Canadian citizenship to clear up concerns that he is not eligible to be president.
Cruz quipped that he might even make his announcement on "Fox & Friends." When a host said she hoped he would make his run official on the show, he replied, "I look forward to visiting with you going forward."
Cruz also responded to remarks from former Senator Rick Santorum, a potential rival who recently told the New York Times that Cruz is just a verbal "bomb thrower" with no experience.
"Well look, there may be people that throw attacks. I think Rick Santorum is a good man, and he's entitled to express his views," Cruz said.
What voters will be seeking, he said, is someone willing to stand up and lead. "I mean, that's the test, as a primary voter, that I intend to apply," he said. "Who is standing up and leading?"
Before it's here, it's on the Bloomberg Terminal.
LEARN MORE