McConnell Weighs In on 2016
The Rand Paul ally is asked about Mitt Romney's machinations.
by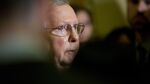 What does newly minted Senate Majority Leader Mitch McConnell think about the intensifying—and early—jockeying for his party's 2016 presidential nomination? 
"I admire them all for their ambition," he said Tuesday, asked whether 2012 standard-bearer Mitt Romney would be a viable candidate or ought to move on. "The more the merrier."
"I've told all people thinking of running for president that the best day they have will be the day before they announce," McConnell said. "I think it's completely open for all the aspirants to make their cases to the various states in play in the early part of the process."
The Kentucky Republican has previously pledged his support to colleague Rand Paul if he runs, telling the Lexington-Herald in November, "I don't think he's made a final decision on that. But he'll be able to count on me."
Kathleen Hunter contributed to this report.
Before it's here, it's on the Bloomberg Terminal.
LEARN MORE