Turnaround Veteran Bruce Rauner's Task as Governor: Tackling Illinois Finances
Tim Jones and Elizabeth Campbell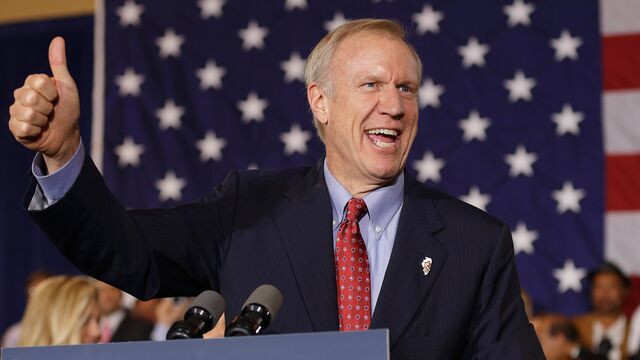 Bruce Rauner is a turnaround specialist who built his reputation taking over struggling companies and making them profitable. Now he's tasked with fixing the finances of Illinois.
A Republican and first-time public officeholder, Rauner takes over today as governor of the state with the worst-funded pension system and the lowest credit rating among its peers, and more financial stress lies ahead. Some government services, such as the corrections department, may run out of cash as soon as next month because lawmakers passed a 2015 budget containing a $2 billion revenue hole.
A $6.5 billion pile of unpaid bills is projected to multiply, exceeding $21 billion in three years, according to the state's budget office. That would be about 60 percent of the annual operating budget. There's also the matter of a $111 billion pension deficit that's squeezing other spending priorities.
"We are in the midst of a government financial crisis that has been building for decades," Rauner said during his inaugural address in Springfield, the capital. "Its roots lie in bad decisions, bad practices, and bad management by state government. It is not a partisan creation. It is a truly bipartisan one."
Downgrade History
Rauner's inaugural comes four years to the day after the Democratic-controlled legislature approved income-tax increases intended to avert fiscal insolvency. Little has changed in Illinois, which has had its credit downgraded a combined seven times since June 2010. The higher levies expired Jan. 1 and the specter of financial chaos that prompted the 2011 tax action has returned.
Rauner's speech was short on specifics. He promised steps, including directing every state agency to freeze non-essential spending and to report on contracts signed since Nov. 1.
He comes to office after more than three decades in the private-equity business, retiring in 2012 as chairman of Chicago-based GTCR LLC, which invested more than $10 billion in about 200 companies.
As chief executive of the fifth most-populous state, he won't have the luxury of time. Investors and credit-rating companies are waiting for Rauner, the first Republican chief executive elected in 16 years in Illinois, to produce a plan to restore financial stability. Campaign promises will clash with fiscal and political reality -- he'll be working with veto-proof Democratic legislative majorities.
'Death Spiral'
"Illinois is in a death spiral and in desperate need of a turnaround," Rauner said in an e-mailed statement Jan. 9.
A report his transition team released that day recommends spending cuts and tax changes as part of a plan to sort out the fiscal mess.
This year's budget doesn't have enough money to cover expenses through June 30 because lawmakers facing re-election two months ago didn't extend the expiring tax increases, which would've generated about $5 billion of revenue next fiscal year.
The accumulated budget deficit, including unpaid bills, may reach $12.7 billion at the end of fiscal 2016, according to a report from the Center for Tax and Budget Accountability, a Chicago-based research group that tracks government spending.
"A number of things Governor-elect Rauner said on the campaign stump will be difficult to come through on," said Ralph Martire, the group's executive director.
He noted that nine of every 10 dollars the state spends go to education, social services, health care and public safety. The corrections department may run out of funds next month because of overtime pay to prison guards, Martire said.
Ratings Shadow
Standard & Poor's, Moody's Investors Service and Fitch Ratings have negative outlooks on Illinois debt, signaling they could drop its credit standing. They all rank it four levels above junk, the weakest among U.S. states. Moody's gives Illinois A3, while S&P and Fitch grade it A-.
A cut of one or more steps by S&P would give Illinois the worst grade for a state from the company since California was ranked BBB in 2004.
Downgrades can inflate borrowing costs and investors are already demanding about 1.4 percentage points of extra yield to own 10-year Illinois bonds rather than AAA munis, Bloomberg data show. That's the highest among the 20 states tracked by Bloomberg, and more than double the yield spread on debt of New Jersey, also rated below AA.
"His biggest job will be to project that he's getting things under control," said Matt Fabian, a partner at Municipal Market Analytics Inc., which is based in Concord, Massachusetts. "That's imperative to staving off a downgrade."
November Victory
Rauner, 58, defeated Governor Pat Quinn in November on a pledge to cut taxes, increase spending for education and preserve social-service programs. Illinois will recover through a combination of lower taxes, economic growth and streamlining government, he said during the campaign. Since the election he's repeatedly said the budget situation is worse than he was led to believe.
"If Rauner was not aware of the details of the budget crisis during his campaign, he shouldn't be governor," said James Nowlan, co-author of the 2014 book "Fixing Illinois: Politics and Policy in the Prairie State."
"His options are stark and limited," Nowlan said.
Rauner, who's scheduled to present his budget to lawmakers next month, proposed extending the state's 6.25 percent sales tax to apply to more services.
Debt Route
The governor needs cash to solve the state's challenges, said Paul Mansour, head of municipal research for Conning, which oversees about $11 billion in municipal debt, including Illinois holdings. That means taxes and borrowing.
Rauner needs to work with lawmakers to ensure that state services are funded through the fiscal year. The state may need to sell debt to accomplish that, and to attract investors the borrowing may need to be coupled with higher taxes or reinstatement of some of the expired increases, said Mansour, who's based in Hartford, Connecticut.
"Although it goes against his longer goal to make the state more competitive, it's necessary in the short-run to solve the crisis he inherited," Mansour said. "All the financial gimmicks have been used up."
Budget pressure may increase this year with a ruling from the Illinois Supreme Court on the legality of a 2013 law to restructure the state's pension system by steps including cutting cost-of-living adjustments and raising the retirement age. A judge struck down the law in November, saying it violated constitutional language protecting retirement benefits.
If the court overturns the law, that would require an additional $800 million pension expenditure next year, said Martire of the tax and budget group. Illinois's system has about 39 percent of the assets needed to pay promised benefits as of 2013, according to data compiled by Bloomberg.
"The bonds are already trading significantly cheaper than any other names out there so the market is very, very skeptical of quick positive results," said Alan Schankel, a managing director at Janney Capital Markets in Philadelphia.
Before it's here, it's on the Bloomberg Terminal.
LEARN MORE