Romney Upends Bush's Play for Top Dog Status
The former Florida governor's plan was a long shot anyway, after shifts in fundraising and Republican Party coalitions.
by
Jeb Bush's shot at clearing, or substantially winnowing, the Republican presidential primary field was always going to be a hard play. Now, it seems to have backfired.
Mitt Romney's surprising message on Friday to supporters that he's considering a third run was a direct response to Bush's moves to roll up the party's strongest aides, strategists, and fundraisers before other establishment candidates could even get into the campaign. Even if Romney doesn't get into the race, his comments send a powerful signal to such prospective candidates as Wisconsin Governor Scott Walker and Florida Senator Marco Rubio that the party's 2012 presidential nominee is convinced a Bush candidacy is flawed and there is room for other players in the primary.
The former Massachusetts governor isn't the only would-be presidential contender unlikely to be intimidated by Bush. Sweeping changes in the way campaigns are financed, shifting coalitions within the Republican Party, and a palpable desire among activists to find a fresh-faced nominee who can inspire the party and the nation in their quest to beat the Democrats may conspire to upend his plan. "We're in an environment where lesser-known candidates have proven that it's not necessarily money, right away, that will put them at the finish line," Republican Senator Cory Gardner of Colorado said.
Two Republican strategists all but dared Romney to join Bush in the race, calculating that more competition for the establishment mantel creates greater space for a challenger from the right. "The immediate beneficiaries from this new Romney revelation? Car elevator builders, Cadillac stocks and of course ... Rafalca," said Hogan Gidley, referring to Ann Romney's Olympic horse. Gidley worked on the campaigns of conservative talk-show host and former Arkansas Governor Mike Huckabee in 2008 and former Pennsylvania Senator Rick Santorum in 2012.
Doug Stafford, Kentucky Senator Rand Paul's chief political adviser, rolled out the red carpet. "As Senator Paul has said previously, the more the merrier," he said.
Bush's push to win the front-runner title mirrors efforts by Hillary Clinton's allies to clear the primary field—although on a far more compressed timeline. Within months of Clinton leaving the State Department in 2013, four outside groups declared themselves devoted to her potential candidacy and formed a sort of campaign-in-waiting. "A lot of people feel like this is Hillary Clinton's time," said Jim Demers, a New Hampshire Democrat who backed President Barack Obama in 2008. "There's not a lot of oxygen left in the room."
But as Romney's remarks showed, Bush, who last ran for office 13 years ago, doesn't have the same sway over the Republican Party as Clinton is wielding over Democrats. If anything, his announcement only encouraged a more aggressive response from potential opponents, who now feel intensified pressure to demonstrate their own strength. "I don't think [Bush] will run anybody out of the race but it does mean that they have to get started earlier to compete," said Charlie Black, a Republican lobbyist who advised the Bush family and Romney. 
Weeks before he announced publicly that he was thinking of a forming a presidential committee, Bush had already begun gently pressing donors—including some key backers of Romney's campaigns—for commitments. Romney, too, has kept in touch with his backers, dispatching long-time aide Spencer Zwick for meetings with donors last month, according to supporters who weren't authorized to talk publicly about the early organizing. They pushed Romney to make a decision about a run, a choice the former Massachusetts governor's advisers say he'll make in the next 60 days. A third presidential run would mark a striking reversal for a man who has twice lost bids for the White House. "My time on the stage is over, guys," he said to family and close aides as he prepared his concession speech in 2012, according to footage in the documentary "Mitt." "We're done," added his wife, Ann.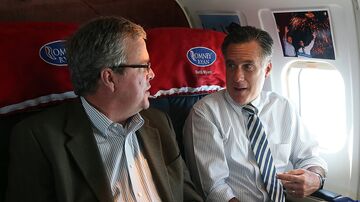 While Bush and Romney have always been cordial, they've never been close. Some Romney advisers are still grumbling about Bush's role in the 2012 campaign. Despite calls, e-mails, and private meetings with Romney before the hard-fought Florida primary, Bush endorsed Romney in March—nearly two months after the state's contest and when the nomination was already within the former governor's grasp. A few months later, in the midst of the general election, Bush criticized Romney's approach to the immigration issue, saying at a Bloomberg View event that he needed to "change the tone." "He got off message," said Bush of Romney's campaign in an interview last month with a Miami television station. "He got sucked into other people's agenda." 
In private conversations, Romney has questioned Bush's ability to beat Clinton, arguing that voters would recall her husband's administration in a far more positive light than that of former President George W. Bush. He's also warned that Bush, who spent his post-office years working on a range of business ventures, could be open to the same type of private equity attacks that Democrats successfully leveraged against Romney in the 2012 race. 
On the other side of the ideological spectrum, Bush's decision to eschew party orthodoxy on immigration, gay marriage, and education leaves some possible challengers seeing an opportunity to run to the right of him. Santorum plans to spend at least five days in Iowa this month and will discuss his plans in a private briefing with aides, lobbyists, and strategists in Washington this week. He, along with other conservative candidates such as Huckabee and Texas Senator Ted Cruz, see an opening to paint Bush as a Republican willing to sell out the party's base for business interests. "I was an unknown," Santorum told Bloomberg Politics' "With All Due Respect" last week of his 2012 bid for president. Now, "I don't think I have to spend the time and energy. Everybody knows where I am."
For these candidates, Bush's early moves give them little reason to get out of the race. Internet "money bombs," a finance tactic pioneered by potential candidate Paul's father in his 2008 bid, enable candidates with a passionate base of support to raise millions from hundreds of small-dollar donors. And with campaign finance rules allowing freelance billionaires to prop up a candidate indefinitely, there's little reason to get out of the race if the wanna-be contender can woo a sugar daddy. "We were up against the candidates who had so many wealthy backers that [my funding] never became an issue," said former House Speaker Newt Gingrich, whose 2012 campaign was prolonged with millions in donations from casino magnate Sheldon Adelson, in an interview last month. "None of these guys are going to be lacking in resources. It's really a threshold effect."
—David Weigel and Michael C. Bender contributed to this report.
Before it's here, it's on the Bloomberg Terminal.
LEARN MORE