Ryan Cites Ways and Means Gavel in 2016 Decision
Richard Rubin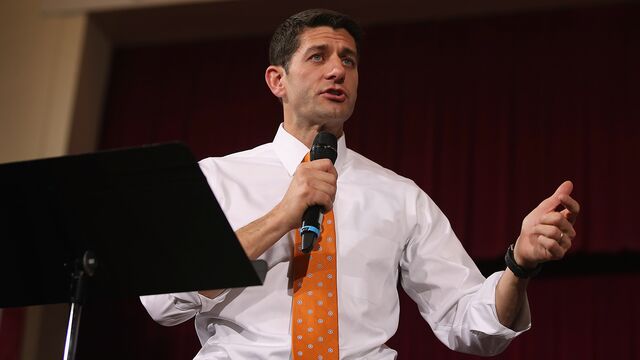 Representative Paul Ryan, the Republican vice presidential candidate in 2012, won't run for president in 2016.
Ryan, a 44-year-old Wisconsin Republican, just became chairman of the House Ways and Means Committee. His decision not to seek the presidency keeps him in that job for as many as six years with control over tax, trade and health policy.
"My job as chairman deserves undivided attention," he said in a statement today. "It's clear our country needs a change in direction. And our party has a responsibility to offer a real alternative. So I'm going to do what I can to lay out conservative solutions and to help our nominee lead us to victory."
Ryan's announcement comes as other prominent Republicans have emerged saying they're weighing presidential bids. Former Florida Governor Jeb Bush said last month that he's actively exploring a 2016 campaign. Last week, Bush started a pair of political fundraising committees, and he has met with donors in cities including Miami, Dallas and Chicago.
The 2012 Republican presidential nominee, Mitt Romney, told donors in New York on Friday that he's exploring another run for the White House, one that Ryan endorsed months ago.
"Sign me up for the Mitt mania," Ryan said on Bloomberg Television in August 2014. "I'd drive his bus if he asked me to."
Spending Cuts
Romney's name has been floated for the past six months as a potential candidate for the Republican nomination, and he led Jeb Bush and the rest of the Republican field by a wide margin in early polls. Even so, big donors in the Republican establishment have begun coalescing around Bush, who wooed Wall Street donors at fundraiser last week in Greenwich, Connecticut.
Ryan, first elected to Congress in 1998, became chairman of the House Budget Committee in 2011 when Republicans gained the House majority.
He backs federal spending cuts and a plan to make Medicare a program in which retirees would get subsidies they could use to purchase insurance. Those ideas made him a political target for Democrats -- one that got even bigger in 2012 when Romney picked him to join the Republican ticket.
Now, atop the Ways and Means Committee, Ryan will have a chance to put those ideas into practice.
Before it's here, it's on the Bloomberg Terminal.
LEARN MORE