McCaskill Says She Will Not Run for Governor of Missouri
Her decision keeps the Senate seat in her party's column through the 2018 midterm elections.
by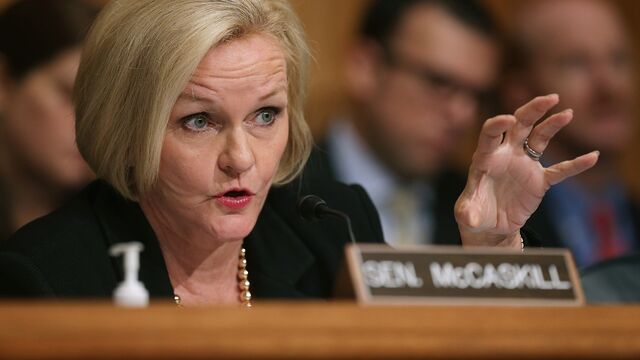 Democratic Senator Claire McCaskill said Monday that she will not run for Missouri governor in 2016, keeping the seat in her party's column through the 2018 midterm elections, when it may be difficult to defend in the Republican-leaning state.
"The job is too rewarding and too fulfilling," she said on "Up to Date," a Kansas City NPR affiliate program. "I just don't feel like I can turn away from it."
McCaskill admitted she'd long wanted to be governor, but said she made the decision not to run during the holidays to focus on work in the Senate, including work on consumer protection and campaign ethics. If she had run and won, the self-described moderate would have been the first female governor of the state. The current governor is Democrat Jay Nixon, who cannot run again because of term limits.
McCaskill ran for governor in 2004, losing to Republican Matt Blunt. She went on to win election to the Senate in 2006. During her re-election bid in 2012, comments from her challenger, Republican Representative Todd Akin, about "legitimate rape" rarely resulting in pregnancy helped swing the election in her favor.
If McCaskill had given up her seat, the state could have posed new challenges to Senate Democrats in the 2018 cycle. Two other red-state Democratic senators, Joe Manchin of West Virginia and Heidi Heitkamp of North Dakota, are considering gubernatorial bids in 2016, according to Politico.
Her decision is "great news for Democrats" in the Senate, said Democratic political strategist John Lapp. "It allows them to focus on expanding the map and getting the majority back."
McCaskill said her brand of middle-of-the-road politics would be important to the Democratic minority in the Congress.
"The Republicans can't get anything done without us," McCaskill said in the interview. "If they try to go too far, those of us who are in the middle sort of pull them back."
She also reaffirmed her support for the Keystone XL pipeline, which Republicans support and the president has promised to veto. The Senate was expected to take a procedural vote on the pipeline on Monday.
Before it's here, it's on the Bloomberg Terminal.
LEARN MORE