Paul Ryan Trolls Chris Christie After Cowboys Lose to Packers
The New Jersey governor came in for his share of chiding following Dallas' loss to Green Bay.
by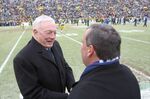 You could argue he had it coming.
Moments after the Green Bay Packers defeated the Dallas Cowboys at Lambeau Field on Sunday to advance to the NFC title game, Wisconsin Representative Paul Ryan fired off a tweet poking fun at New Jersey Governor Chris Christie. 
Christie, who had, for the second week in a row, traveled to watch the Cowboys play, received no shortage of Twitter taunting after time expired and Dallas' hopes of continuing on had been dashed. Much of that stemmed from the governor's high-five fail and awkward hug with Cowboys owner Jerry Jones at the conclusion of last week's game with the Detroit Lions, a display that launched a wave of social media activity. 
Shrugging off the teasing, Christie saw fit to poke fun at himself while building on the Dallas/Green Bay rivalry with a tweet directed at Wisconsin Governor (and possible presidential rival) Scott Walker. 
While Walker refrained from trolling Christie as directly as Ryan following the game, he did make sure to wear lucky gloves that were the same hue as a lucky sweater worn by his New Jersey counterpart. 
Before it's here, it's on the Bloomberg Terminal.
LEARN MORE