Chris Christie Hops Commercial Flight to Green Bay to Cheer Dallas
The Cowboys' biggest fan made the trip to Lambeau Field on his own dime, he said.
by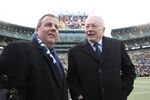 The Dallas Cowboys' number one fan is in the house.
New Jersey Governor Chris Christie, a potential White House contender, boarded a commercial flight out of LaGuardia airport on Saturday evening and flew to Green Bay, Wis., to watch the Cowboys take on the Packers, NJ.com reported. 
Cowboys owner Jerry Jones paid for Christie's plane ride to Dallas to see the team defeat the Detroit Lions in last week's game. This time, Christie, who was accompanied by his son Andrew, said he picked up the tab for the flight. 
"We were the last two on board," the Republican told reporters Saturday, "and the reaction was great. There were a lot of Cowboy fans on the plane, and they were cheering, but then you had the Packers fans yelling, 'You got no chance!'"
Christie's relationship with the Cowboys had come under scrutiny since his exuberant celebration in Jones' box at the conclusion of last week's playoff game went viral. The Port Authority of New York and New Jersey awarded former Cowboys quarterback Roger Staubach's real estate firm a $12.5 million contract four months after Staubach donated $3,800 to Christie's re-election campaign, the New York Daily News reported Sunday. Christie has also been criticized for the Port Authority's approval of a contract with Legends Hospitality, where Jones is a board member.
The political ramifications of Christie's love for all things Cowboys did not appear to be much on the governor's mind as he headed to Lambeau Field, however. 
"I like the way they're playing, and having spent some time around them the last four or five weeks now, they're a very confident group. They won't get flustered today," Christie said, according to NJ.com. "They may not win, but they won't get flustered."
Before it's here, it's on the Bloomberg Terminal.
LEARN MORE