The Beastie Boys' Ad-Rock Is Not Impressed with Jeb Bush
Ad-Rock responds to Jeb Bush's tweet promoting his new political action committee.
by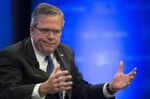 When Jeb Bush, echoing the name of his new political action committee, tweeted "You got to fight...for your #RighttoRise" on Friday, he—or whoever runs his social media account—probably thought that he was being hip. The line is a reference to "Fight for Your Right," the hit single from the Beastie Boys' debut album, Licensed to Ill, which is still a party standby. But, based on the mocking the former Florida governor has received from the left and the right, his tweet was definitely not cool.
Now one third of the band that made "Fight For Your Right" a smash success has weighed in on Bush's attempt at PAC promotion with a hashtag of his own: "#C'monSon."
Before the Beastie Boys' Adam Yauch died, in 2012, from cancer, he specifically stated in his will that "in no event may my image or name or any music or any artistic property created by me be used for advertising purposes." Whether Bush's tweet crosses that line isn't clear, but it's obvious that Ad-Rock isn't a fan.
Politicians, particularly Republicans, tend to have bad luck when they try to use popular songs to promote themselves—bad luck that gets delivered in the form of a cease-and-desist letter. In 2012, during the last presidential election, both Mitt Romney and Newt Gingrich were asked to stop playing "Eye of the Tiger" by Survivor in their campaigns. Romney also received a cease-and-desist letter for using the Silversun Pickups' "Panic Room." The band said in a statement,"We don't like people going behind our backs, using our music without asking, and we don't like the Romney campaign."
Also in 2012, after Representative Paul Ryan called Rage Against the Machine his favorite band, Tom Morello, the band's guitarist and a progressive activist, took to Rolling Stone to call Ryan "the embodiment of the machine that our music has been raging against for two decades." If Ryan can survive that level or rejection, Bush will probably be fine, too. 
Before it's here, it's on the Bloomberg Terminal.
LEARN MORE