Obama's Latest Optics Controversy: Driving Past the Phoenix VA Hospital
Republicans and advocacy groups accuse the president of snubbing veterans.
by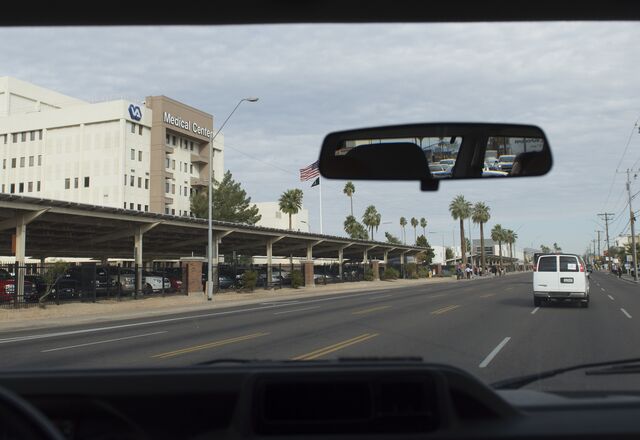 President Barack Obama can now add driving past a Veterans Affairs hospital to his list of bad presidential PR moments, along with golfing while the world burned this summer and not visiting the U.S.-Mexico border during the child migrant crisis.
When the president announced that he planned to visit Phoenix this week as part of his pre-State of the Union tour, Senator John McCain and advocacy groups like the right-leaning Concerned Veterans for America urged Obama to visit the city's VA hospital, epicenter of the department's patient care scandal. In May 2014 news broke that the Phoenix hospital, as well as others around the country, were putting veterans on secret wait lists to hide unacceptably long appointment wait times. 
The question came up during Wednesday's White House press briefing. "We've made a covenant with our veterans, and this president is determined to make sure that we uphold it," Press Secretary Josh Earnest said.
On Thursday, Obama's motorcade drove right past the hospital, angering some veterans and drawing criticism from conservative sites and Republicans. Republican National Committee Chairman Reince Priebus called the alleged snub a "testament to this president's misplaced priorities" while a Concerned Veterans for America member called the moment "a slap in the face" during an interview with a local television station. Ellie Wallace, the RNC's director of media affairs, offered this visual contribution:
 The "priorities" criticism is familiar by now.  During the summer the president was mocked for golfing while the world burned—specifically, for continuing his vacation after U.S. journalist James Foley was executed by the Islamic State. Earlier in the summer, members of his own party criticized him  for not visiting the border during the child migrant crisis. Obama responded that he was "not interested in photo-ops," though Texas Representative Henry Cuellar noted that he did have time for a beer and pool photo-op in Denver.
One can argue whether optics are as important as action (Obama requested $3.7 billion in funding for the border, for example) but the big difference between last summer and now is that the VA has faded as a hot political issue. But many people are not going to forget it.
Before it's here, it's on the Bloomberg Terminal.
LEARN MORE