Vermont Governor Peter Shumlin's Nightmare is Almost Over
He needs the state legislature to re-elect him on Thursday after a poor performance in November against a politically unknown Republican.
by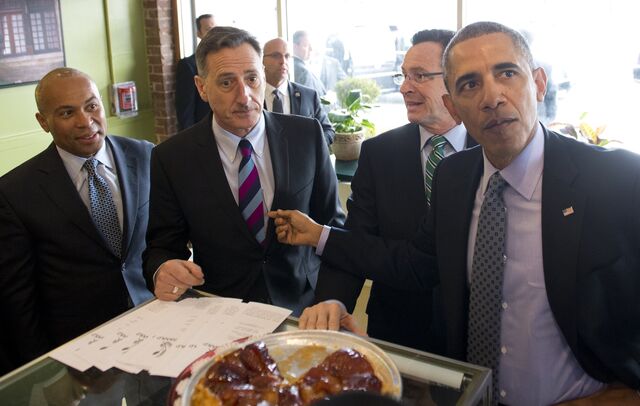 The 2014 election was a rough one for Democrats, and lying amid all that political debris, barely breathing, is Vermont Governor Peter Shumlin.
Last year, Shumlin was head of the Democratic Governors Association, which lost 24 of 36 races in November and that list came dangerously close to including his own seat. Shumlin is expected to prevail on Thursday, after being bailed out by the overwhelming Democratic majority in the state legislature—even that moment of triumph could be marred by some protest votes.  
The legislature is intervening after the two-term incumbent failed to capture more than 50 percent of the votes in the November election, which is required by the state constitution. Shumlin took 46.4 percent of the vote compared with 45.1 percent for little-known Republican Scott Milne; five minor candidates shared the remainder of the vote.
The razor-tight finish of the Shumlin-Milne race alone was a political humiliation in left-leaning Vermont. A bastion of liberal Yankee Republicanism until the 1960s, Vermont is now a Democratic stronghold: President Barack Obama won 67 percent of the Vermont vote in the 2012 election, his best showing among the 50 states except in his birth state of Hawaii. It's the home state of Senator Bernie Sanders, a self-described democratic socialist who's thinking about running for president in 2016. Shumlin won a second term in 2012 with 58 percent of the vote.
The national Republican wave only partly explains the governor's slide; other Democrats on the Vermont ballot in 2014 ran far ahead of him. Shumlin's political struggles owe partly to big problems with the state-run health-care exchange. He antagonized his liberal base by backing away from longstanding plans to transition to single-payer health care in Vermont. He's also angered some environmentalists on more parochial issues. "In a way, he's alienated multiple constituencies at once," including "the conservatives who feel as if the exchange has been a waste of time, and the liberals who are disappointed that he's not pursuing it," said Bertram Johnson, a political scientist at Middlebury College.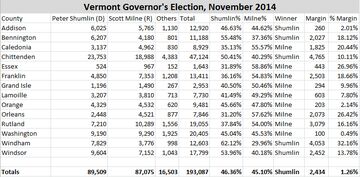 There's little doubt the legislature will re-elect Shumlin. Democrats account for 105 of the 180 legislators in the House and Senate, compared with 62 Republicans and 13 independents and progressives. In 2010, when Shumlin won his first term, the legislature formally elected him after he took 49.5 percent of the popular vote and his Republican opponent conceded.
What's different about this race is that Milne hasn't conceded. He says it's time for a change, and is asking legislators to vote based on who won their legislative district and not according to the statewide popular vote. (Awarding votes by district generally favors Republicans because Democratic voters are more concentrated in urban areas and inefficiently distributed.)
Shumlin says it's a bad idea to hand over the reins to the inexperienced Milne, a local businessman. "Government would literally be paralyzed while this candidate tried suddenly to pull it all together in a short period of time," Shumlin said on Monday, according to the Associated Press. After his near-political death experience, Shumlin also supports amending Vermont's constitution to allow a governor to win with plurality support.
There's a twist to the legislature's vote: it's a secret ballot. While we won't know who voted for whom, "it's probably going to be an embarrassment unless he can get every single Democrat and Progressive in the legislature to vote for him, which is probably not going to happen," Johnson said. "So he's been through a really rough couple of months," Johnson added, "and it remains to be seen whether he can dig himself out of that."
Before it's here, it's on the Bloomberg Terminal.
LEARN MORE