The Continuing Rise of Neither/Nor Voters
It's bad news for both major political parties, but Democrats appear to be faring worse.
by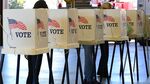 A record share of Americans—43 percent—now consider themselves independent voters, and initial identification with the Democratic Party appears to be at its lowest since the 1950s, according to new Gallup data, trends that may shape the way 2016 presidential hopefuls try to appeal to primary voters without alienating those who wait for the general election.
The trends don't signal the imminent end to two-party dominance, said Frank Newport, Gallup's editor-in-chief. "Practically speaking, we've got the primary system and many other barriers to a third-party candidate being a serious candidate in a presidential election."
Still, Newport said, "I think it does indicate that there might be more of an openness to a third-party candidate than in the past (or) an independent candidate," though at the national level a successful independent candidate also likely would need great wealth and wide name recognition. 
The latest findings come from aggregate data from 15 Gallup telephone polls conducted over the course of 2014 and amid voter frustration with partisan gridlock and government dysfunction.

Self-identified Democrats still outnumber Republicans, 30 percent to 26 percent. But the trend toward the independent label has been worse for the Democratic Party, whose identification has fallen six percentage points during Barack Obama's tenure as president; since 2008, Republican identification has fallen two percentage points.
Independents tended to lean more toward the Republicans, the surveys showed.  Forty-five percent of those surveyed identified themselves as Democrats or Democrat-leaners, while 42 percent said they were Republicans or Republican-leaners. 
"It doesn't mean we're not more polarized than we have been," Newport said, because within the two major parties "what we're left is hardcore groups on either side that are pretty intransigent" while, when pressed on their ideological beliefs, independents tend to lean toward one party or the other.
Looking ahead to 2016, Newport said, voters' growing disaffection with the party system could depress turnout. It also could complicate candidates' strategy. "There actually may be more of a challenge here if you shrink the core party base, and then you have to do the flip and suddenly be appealing to a more general electorate." 
The polling comprised a combined random sample of 16,479 adults nationally, with a margin of error of plus or minus 1 percentage point. 
Before it's here, it's on the Bloomberg Terminal.
LEARN MORE