Mike Huckabee's Book Offers Small Portions of Just About Everything
The Republican presidential hopeful shares his thoughts on why Miley Cyrus and Beyonce are terrible.
by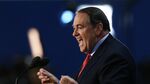 It's not exactly a heaping helping of policy and politics, but Mike Huckabee's new book, God, Guns Grits and Gravy, which goes on sale on Jan. 20, is every bit as folksy as the title promises.
The book's 242 pages are sprinkled with Southern charm, and there are plenty of references to mama, good ol' boys and Bibles used to make the case that Huckabee should be America's Culture Czar, its strict but loving grandpa, and, if you read between the lines, its next president.
So what highlights stand out in this latest political memoir? The preacher and Republican former Arkansas governor, age 59, tsk-tsks about Miley Cyrus's foam finger gyrations and how annoying reality television is, although he heaps praise on "Duck Dynasty" patriarch Phil Robertson in a few chapters. It all comes across a bit "Get Off My Lawn!" which, incidentally, is the title of Chapter Nine.
Huckabee's writing style is down home and approachable, much like the former governor himself. After all, he has 11 other books under his belt and was a successful talk radio host and Fox commentator until resigning those posts recently. He ran for president in 2008 and is weighing another bid next year. Hence, this new book. Jeb Bush, Marco Rubio, Rand Paul and other possible candidates join him with their own tomes this year, and Huckabee's book tour, which kicks off on Jan. 18 in Florida, will conveniently take him to the important primary states of Iowa and South Carolina.
Not that Huckabee is hiding his ultimate intention for penning his 12th work. In fact, he makes it clear in the introduction. As he defines "Bubba-ville" (the middle of the country, where he lives) and "Bubble-ville" (the snobby cities of Los Angeles, New York City and Washington), he bluntly states:
"...there's only one address in that city that I'd probably want to relocate to." The line is punctuated by a smiley-face emoticon. And, like "God," Huckabee capitalizes "President" and "Presidency" throughout the book. 
God, Guns, Grits and Gravy doesn't get into many policy specifics; some of what Huckabee proposes he dubs "Redneck Remedies." Like his head-shaking at Miley, his political views are hardly surprising: Obama is bad. Same-sex marriage is a sin. Guns save lives. Government is intended to be as local as possible. The IRS is a criminal enterprise. Climate change is probably hot air.  The "Get Off My Lawn" chapter wraps up with Huckabee boldly asserting that "part of the solution is better citizens obeying the laws we already have so we don't have to pass new laws to further explain and expand the old ones." Good luck with that.
After digesting dozens of passages lamenting the vulgarity that has ruined the country, the reader arrives at Chapter 10: "Bend Over and Take It Like a Prisoner!" 
No, no, Huckabee wasn't arrested, he quickly assures us. He's talking about the government agency that everybody loves to hate, the Transportation Security Administration. Because he flies a lot, he has plenty of TSA stories to share, but he doesn't suggest a better way to handle airport security. And in that same chapter, he offers that the government should close down the IRS and replace the income tax with the Fair Tax, without explaining what it is, a 23 percent national sales tax.
Huckabee next dips a toe into his party's Common Core debate. Potential primary rival Bush favors the national education standards, but Huckabee calls Common Core "a good idea gone bad." His foray into a foreign policy is also brief, noting late in the book that the U.S. is falling behind other nations thanks to Obama, "the least experienced and most liberal person ever elected President." He's pro-term limits for federal lawmakers and Supreme Court justices.  And he's against any campaign-finance limits, though he says that needs to be paired with full disclosure of all donors.
In a bit of wishful thinking, Huckabee writes about how unfortunate it is that Republicans waste money attacking one another in primary fights. "The goal of conservatives should be to build up America—not blow up the Republican Party." He argues that the Club for Growth is a "suicide bomber" and says the group ruined his chances in 2008.
Though its unlikely that anyone at the Club has yet read God, Guns, Grits and Gravy, the group has  already vowed to attack the author again if he runs.
Before it's here, it's on the Bloomberg Terminal.
LEARN MORE