What 5 Boehner Supporters Say about Their Changes of Heart
The speaker held on to a few of his loudest critics.
by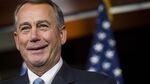 Ohio Republican John Boehner was elected to a third term as House speaker on Tuesday with the support of fewer than half of the House's 434 members, as conservative Republicans laid bare their discontent with his leadership.
Still, Boehner won over several Republicans who voted against him in 2013 or who indicated they weren't planning to vote for him this year.
Here are five would-be mutineers who Boehner managed to bring into line and what they said about their votes.
Steve Pearce
The New Mexico representative voted for then-House Majority Leader Eric Cantor two years ago. In a statement on Tuesday, Pearce didn't clearly explain why he backed Boehner this time. He did acknowledge that the attempted coup two years ago "failed" and noted that after the 2014 midterm elections, "in a private meeting, outside the gaze of the cameras and the related posturing for publicity, not a single Member of the House challenged John Boehner for Speaker and he was re-elected without opposition." 
Raul Labrador 
The Idaho representative didn't vote for anyone in 2013.  He said that this year, he had assurances from the speaker that things will change. 
"Before I cast my vote for Mr. Boehner, I spoke with him multiple times," he said in a statement on Tuesday. "He assured me that he wants to change the way the House is run. He cited my successful efforts last August in bringing conservatives together to pass two bills that would have secured the border and prevented Obama's illegal executive actions."  
Mick Mulvaney 
In 2013, Mulvaney joined Labrador in declining to vote for anyone. In perhaps the most fiery comments to come out of Tuesday's vote (one Washington Post journalist dubbed it a "Bulworth" moment), the representative from South Carolina said that he had learned a thing or two since 2013 and that if there had been any shot of ousting Boehner this year, it would have been made clear by a secret ballot.
"I learned two years ago that people lie about how they are going to vote," Mulvaney said in a statement. "And you cannot go into this kind of fight with people you do not trust. We walked onto the floor two years ago with signed pledges—handwritten promises—from more than enough people to deny Boehner his job. But when it came time to vote, almost half of those people changed their minds—including some of those who voted against Boehner today."
Barry Loudermilk 
The freshman from Georgia had indicated last year that he would not vote for Boehner. On Tuesday, he said on Facebook that "no one stood up to present a viable alternative. When Republicans chose our nominee, I was one of three who voted for new leadership. However, nearly two months later, we still were not presented with another serious candidate."
Jody Hice
Like his Peach State colleague, Hice had said over the summer that he would prefer "new leadership, and new leadership with a backbone," to Boehner.
"Instead," he said in a statement on Tuesday, "a challenge did not occur until 2 days before the election of the next Speaker of the House when gaining 218 votes was not possible. I truly regret that a proper campaign was not waged, with the issues fully debated, that would have allowed a conservative to prevail in November, yet I huddled with fellow conservatives up until 10 minutes before the House was called to order."
Before it's here, it's on the Bloomberg Terminal.
LEARN MORE