The Anti-Boehner Rebels Can't Agree: Should They Be Angry About the Speaker's Revenge?
Republicans differ on whether to complain about post-speaker vote demotions.
by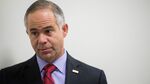 After the rebellion came the airing of grievances. The failure of 24 House Republicans to force a second ballot in Tuesday's speaker election was followed by several rebels being removed from committees. As Bloomberg's been reporting all day, the demoted congressmen are of mixed opinions about how hard to fight. On the right, the demotions are being received the way like a martyr's body carried through grieving crowds.
"If there was no retribution and no fear of that, we'd have a new speaker today," said Representative Tim Huelskamp of Kansas in an interview with Laura Ingraham, a radio host with strong influence inside the conservative part of the conference. "The beatings are going to continue until morale improves. I've been through this before, Laura ... I fully expect every one of us will have some form of punishment here in Washington."
Ingraham agreed. "Even the mainstream media, which overwhelmingly supports Boehner as speaker ... even they are reporting on the revenge," she said.
"They want these stories to go away, that the 24 will be pushed to the edge and singled out and ignored and punished," Huelskamp said. ("They" meant the leadership.) "That's what (Speaker) John Boehner tried to do two years ago by kicking me off two committees. But we didn't go away. We doubled our numbers."
There are two impediments to the martyr parade. One: As Florida Representative Rich Nugent told reporters Wednesday, he was off the Rules Committee but was expecting a discussion with leadership about being restored.
"Whatever happens to me, happens to me," said Representative Daniel Webster of Florida, the surprise alternative speaker candidate who won Nugent's vote. "But [Nugent's] voting out of loyalty. He's a friend, he's from Florida. I don't think he should have to suffer any consequences."
The second impediment is a fading desire to whine about the punishment. Webster, punished with removal from the Rules Committee, did not actually want his seat back. Florida Representative Ted Yoho, who'd taken a much larger, earlier role in the Boehner protest, was not interested in any of the arguments about committee assignments.  
"When you make a decision to do what we did, and stand up, and vote like our constituents want us to, you take the risk of consequences," Yoho said. "When I decided to do this, I knew there was a risk of being thrown off a committee."
Before it's here, it's on the Bloomberg Terminal.
LEARN MORE