Rick Santorum Eyes Role as Uniter for 2016 Presidential Run
The former Pennsylvania senator says he sees a chance to cut through partisan gridlock.
by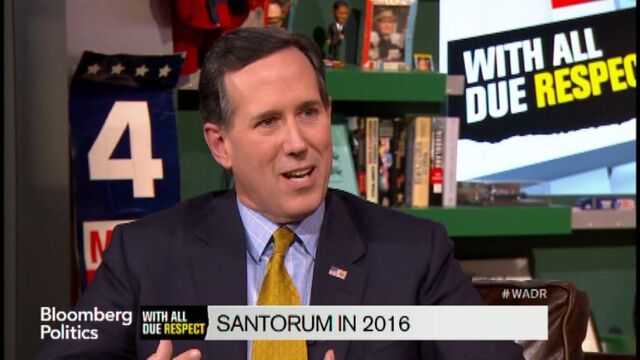 Staunch conservative Rick Santorum may have landed on a new strategy to try and win the Republican presidential nomination: run as a uniter. 
Appearing on "With All Due Respect" on Wednesday, Santorum floated the image makeover, while maintaining that he had not changed his views on any single issue. 
"There are issues out there in America that unite us, and one of the things I'm excited about in looking at a campaign in 2016 is having a message that not only unites Republicans but also can bring Democrats along not just during the campaign, but, more importantly, as we see the division in Washington, afterwards," Santorum told hosts Mark Halperin and John Heilemann. 
Specifically, Santorum, who as a Pennsylvania senator voted against raising the minimum wage and supported the privatization of Social Security, pointed to economic issues as ones "that can actually get bipartisan support," and said that prospect was drawing him to consider another run for his party's nomination. 
"That's what gets me energized, is to create an atmosphere where we can have some unity instead of divisiveness in Washington," Santorum, who won the Iowa caucuses in 2012, said. 
Santorum's appearance on the show was not just one long feel-good moment, however. When discussing the Paris terrorist attack, Santorum, like many of the prospective 2016 GOP candidates, was critical of the way President Barack Obama has handled the war on terrorism. 
"I think the president has not taken the battle to ISIS, obviously, very seriously. If you look at the number of strikes that are occurring to try and try and, quote, defeat ISIS, it's a drip-drip, not an effort to really defeat the enemy," Santorum said. 
On Jan. 13, Santorum will huddle with past advisers and supporters to detail his plans for the coming campaign. 
Before it's here, it's on the Bloomberg Terminal.
LEARN MORE