Jerry Brown Returns 'Pusillanimous' to the Political Lexicon
California's Democratic governor, starting his unprecedented fourth term, goes highbrow in describing critics of high speed-rail project.
by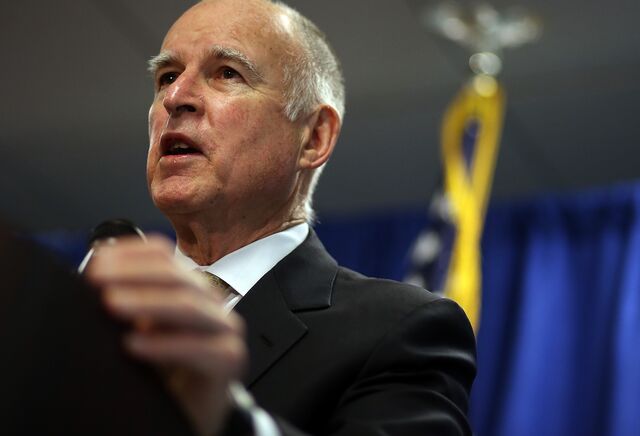 Jerry Brown wants to build a high-speed rail system—and your vocabulary.
"People do get pusillanimous," California's Democratic governor said Tuesday, referring to critics of the $67 billion rail project in his state specifically and of big public works projects generally.
"I wanted to use that word because that's the adjective I'm going to affix to all the critics," Brown said, according to the New York Times. "You can look it up on your cellphone right now. Pusillanimous. It means weak of spirit. The Golden Gate Bridge, that was attacked. BART—the mayor of Berkeley said this thing was a complete boondoggle."
Brown's use of the word (here's Merriam Webster's entry) brings to mind Spiro Agnew's role in enshrining the word in the political lexicon. Richard Nixon's vice president used the alliterative arrow "pusillanimous pussyfooters" to describe critics of the administration. Nixon speechwriter and future presidential candidate Pat Buchanan was behind the phrase.
Presidents have also employed the word. In October 1957, five days after the Soviet Union's launch of Sputnik intensified the space race and Cold War tensions, President Dwight D. Eisenhower said at a press conference that the U.S. was spending $5.2 billion on armed military research and development.
"Now that isn't any weak, pusillanimous effort; that is a lot of money," Eisenhower said.
President William Howard Taft employed the word in his 1909 inaugural address, which called for changes in immigration policy:
Having assured to other countries by treaty the protection of our laws for such of their subjects or citizens as we permit to come within our jurisdiction, we now leave to a state or a city, not under the control of the Federal Government, the duty of performing our international obligations in this respect. By proper legislation we may, and ought to, place in the hands of the Federal Executive the means of enforcing the treaty rights of such aliens in the courts of the Federal Government. It puts our Government in a pusillanimous position to make definite engagements to protect aliens and then to excuse the failure to perform those engagements by an explanation that the duty to keep them is in States or cities, not within our control.
"Pusillanimous" also appeared in the Republican platform of 1888, when Benjamin Harrison unseated Democratic incumbent Grover Cleveland: "We arraign the present Democratic Administration for its weak and unpatriotic treatment of the fisheries question, and its pusillanimous surrender of the essential privileges to which our fishing vessels are entitled in Canadian ports under the treaty of 1818, the reciprocal maritime legislation of 1830, and the comity of nations, and which Canadian fishing vessels receive in the ports of the United States."
Before it's here, it's on the Bloomberg Terminal.
LEARN MORE