Which Prospective GOP Candidate Has Logged the Most Iowa Hours?
Data from the Des Moines Register shows which candidates have been hitting ground early and often in the Hawkeye State.
by

With a simple "stay tuned" this weekend, Mike Huckabee quit his Fox News TV gig while he considers another bid for the White House.
A Huckabee run would add yet another social conservative to a crowded field of potential 2016 candidates. Still, there are few places the former Arkansas governor would be more formidable than in Iowa, the nation's first caucus state, where he dominated in 2008.
By this stage in his last presidential campaign, with still a year to go before the 2008 Iowa caucuses, Huckabee had already attended about 30 events in the Hawkeye state, according to a tally by George Washington University. He would go one to spend a total of 75 hectic days there heading into the country's first presidential contest, wooing more Iowa Republicans than any GOP contender since the caucuses started nearly four decades ago.
Assuming Huckabee's talk show has only bolstered his name recognition in the state—where he has seven events since November 2012—a definitive move toward another run for president could mean trouble for other potential candidates who need early momentum in the nomination horserace. 
Based purely on their courtship of Iowans so far, Rick Perry leads the pack of Hawkeye hustlers in this election cycle, according to data from the Des Moines Register. In last place? Jeb Bush. 
Rick Perry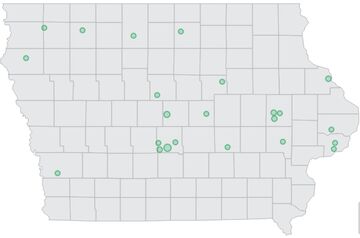 The soon-to-be former governor of Texas and potential 2016 candidate leads the GOP field for most trips to Iowa. He has spent 15 days in the state since the 2012 election, appearing at 33 events.
That's an earlier start than his attempt at the presidency in 2012, when he did not once visit the state before announcing his candidacy in August of 2011, according to similar Des Moines Register data from that election. Perry would go on to hold a total of 86 events in the Iowa before the caucuses, but came in fifth place with about 10 percent of the vote. If Perry plans to convince the American electorate he is no longer the "oops" candidate we saw last time around, a strong Iowa showing would be the way to do it.
Rand Paul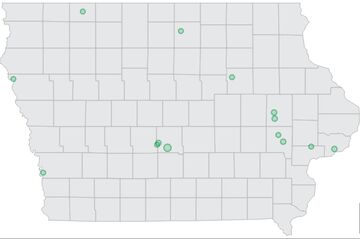 In second place, logging 24 events over 10 days in Iowa since the last presidential election, Kentucky Senator Rand Paul appears to be working hard to gauge his support among the Hawkeyes who previously supported his father—Ron Paul took a strong third place in the Iowa caucus two years ago, with about 21 percent of the vote. 
At least in visits, the son has already surpassed his elder, who at this point in that election had only attended a quarter of the number of events Rand Paul has so far.  The younger Paul is not necessarily seeking same voter base that would be backing Huckabee in 2016. Still, there are few other potential candidates who have visited Iowa more, and a strong showing would bode well for  Rand Paul in the next primary battle in New Hampshire, where he appears to have some early support.
Rick Santorum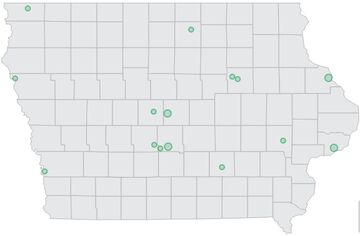 Rick Santorum doesn't need to work as hard at introducing himself to Iowans as he did two years ago, when he all but moved to the state for weeks. Holding a total of 314 events in 105 days between 2008 and 2012, Santorum barely eked out a 34-vote victory over Romney in the caucuses.  
Iowans would no doubt be the backbone of a 2016 strategy if he decides to run again, setting up a potential boxing match with Huckabee (not to mention Perry and Texas Senator Ted Cruz, who has held 12 events in Iowa so far) to win over evangelical Christians and socially conservative voters. 
Since the last election, Santorum has held 19 events over 12 days in Iowa, landing him among the top three early visitors to the state. That's fewer events than he held during the same period last election, when he held 29 events in 18 days by Jan. 2011.
Jeb Bush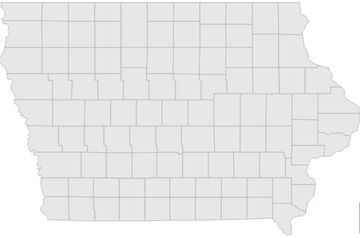 Not once: That's how many times Jeb Bush has visited Iowa in the past two years.
But the slow start may not be a dramatic set back. Mitt Romney, who was the establishment favorite in 2012, had only held five events in the state at this point last election. Romney would go on to hold 39 events over 19 days in Iowa, still far less than some of his opponents, and was thought to have won the caucuses before a recount gave the victory to Santorum days later.
One difference (and potential hurdle for Bush) is that Romney's former position as governor of Massachusetts gave him an advantage in neighboring New Hampshire, home to the nation's second early GOP contest. And with the possibility of another North Eastern politician—New Jersey governor Chris Christie, who has held eight events in Iowa this cycle—entering the 2016 primary fight, a strong Iowa showing may become more vital to Bush than it was for his 2012 counterpart.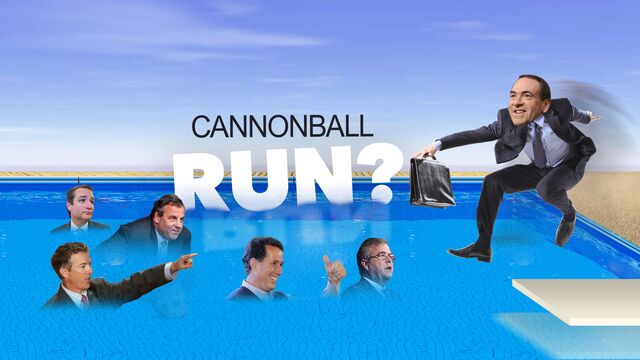 CORRECTION: An earlier version of this story's sub-headline used an incorrect nickname for the state of Iowa.
Before it's here, it's on the Bloomberg Terminal.
LEARN MORE