So How Did Dan Webster Get 12 Votes to Replace Boehner?
The Florida Republican surprisingly won the most insurgent votes in the race to become U.S. House speaker.
by and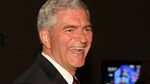 The Republican who received the second-most votes on Tuesday to be U.S. House speaker isn't well known inside the Washington beltway, but back home in Florida he's one of the godfathers of the state's modern-era Republican Party.
A quiet, thoughtful conservative with an engineering degree and six children, U.S. Representative Dan Webster's careful and methodical plotting in the 1980s and 1990s led to an eventual Republican takeover in state capital—where he was elected the party's first state House speaker in more than a century. His achievement laid the groundwork for Jeb Bush to win the governor's race in 1998, and then become the first Republican governor ever reelected in the state.
Many of Webster's 12 votes on Tuesday came from the Tea Party. And while he was first elected to Congress in the Tea Party wave of 2010, he's not a creature of the movement. As the state Senate Republican majority leader in 2007-08, Webster was a crucial player in thwarting an aggressive plan to rewrite of property tax laws from then-House Speaker Marco Rubio and instrumental in pushing a state economic stimulus plans that relied on spending to build and upgrade highways and bridges. He was flown around the county consulting Republicans on how to take control of state legislatures from Democrats.
In an interview, Webster said was reluctant to let his name be put forth. His decision came in past 24 hours as more members approached him to do so. Even so, Webster said he's ready to help show Republicans can govern in Congress. "I'm a team player," he said. "It's over, there's no more elections. Now, let's go in and prove to the people we can govern."
Hours after the vote, Webster was removed from House Rules Committee, which traditionally includes the leadership's most loyal lieutenants. Representative Richard Nugent, a fellow Floridian who voted for Webster, also lost his post on the committee.
Webster said he and others in Boehner's own Republican conference—not necessarily just those from the Tea Party—want a "more member-driven process," adding that he wanted leadership to listen more to the concerns of each and every House Republican. "Based on the principle pushing down the pyramid of power, spreading out the base so that every member gets to be effective," said Webster.
Webster, 65, has spent much of the past four years in Congress in the background, helping organize regular, bipartisan meetings of lawmakers and quietly winning the respect of colleagues. Republicans first approached him about six months ago to gauge his interest in the top spot of the House, according to a Republican source with knowledge of the conversations. Webster declined the invitations.
"Listen, I've been a speaker. I've been a majority leader. I've been a minority leader," Webster said Tuesday. "Those are the sort of things I don't need any more."
He supported Boehner in the past, but has publicly questioned the process in the Republican-controlled House. Webster circulated a white paper last month outlining his principles for a Republican-controlled House, which Representative Steve King partially lifted from when he nominated Webster for the top post and called him a "a man who understands that power and principle cannot coexist without recognizing the sanctity of each members' vote in this House of Representatives."
The nomination caused a rumble of murmurs throughout the House.
Webster's name surfaced publicly on Monday when Representative Walter Jones of North Carolina—leader of the rebellion—began to float his name for speaker. Even then Webster was reluctant. He didn't announce that he would himself be voting for someone other than Boehner until Tuesday morning. Even then, less than two hours before the vote, Webster would not answer a Bloomberg News reporter's question about whether he'd let his name to be put up for speaker. Webster voted for himself from the floor in a voice that could barely be heard.
Webster is a "serious member who understands the process and has the right principles," said Representative Jeff Miller, a fellow Florida Republican. "He's the type of person folks can be drawn to." Even so, Miller, the chairman of the House Committee on Veterans Affairs, voted for Boehner, who he described as "clearly the person that our conference wants to lead."
Asked whether today's vote suggests Webster deserves a spot in leadership himself, he said, "I'll sure help Mr. Webster as much as I can."
Representative Scott Rigell, seen as a more moderate member of the party, said he decided to support Webster because he had the "temperament" to be speaker. Rigell, a Virginia Republican, said his vote wasn't a personal attack on Boehner. "It's not what he's done," said Rigell. "Our calendar is not reflecting the challenges facing our nation. I cannot reconcile, as a working American who has not served in a legislative body, I cannot reconcile that we break for eight weeks and our appropriations bills are not passed. All I know is hard work: If we're not done with bills, we stay in session until we are."
David Weigel, Kathleen Miller, and Jonathan Allen contributed to this report.
Before it's here, it's on the Bloomberg Terminal.
LEARN MORE