Reid Delays Return to Capitol Following Doctors' Orders
Kathleen Hunter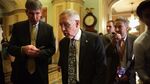 U.S. Senate Minority Leader Harry Reid is staying away from today's start of the new session of Congress on doctors' advice following an accident while exercising last week, according to spokesman Adam Jentleson.
Reid, 75, a Democrat, spent the night of Jan. 1 at University Medical Center in Las Vegas after suffering a concussion, three broken ribs and broken bones in his face in an exercising accident at his Nevada home.
"Senator Reid is in Washington but on orders from his doctors he will not come into the office so that his injuries can continue to heal," Jentleson said in a statement.
The decision means Reid -- who today loses his majority leader post to Republican Mitch McConnell of Kentucky -- is missing the opening of the 114th Congress. That includes the swearing in of 13 newly elected senators, all save one of them Republicans.
"He's tough, I know he will be back in fighting form soon enough," McConnell said today on the Senate floor, noting Reid's background as a former amateur boxer.
Democrats lost a net nine seats in the Nov. 4 election and are turning over control of the chamber to Republicans for the first time in eight years.
First Measure
The first piece of legislation the Senate will consider is a bill to require approval of TransCanada Corp.'s Keystone XL pipeline, a measure Reid opposes. The measure's chief sponsor, North Dakota Republican John Hoeven, told reporters today in Washington that an initial test vote on the bill will be held Jan. 12.
Reid's top lieutenant, Richard Durbin of Illinois, will fill in for Reid, Jentleson said, adding that Reid "has been working every day, holding meetings with fellow senators and staff."
"Senator Reid has spoken with President Obama multiple times since his injury and will continue to keep a busy schedule in the coming days," Jentleson said.
Durbin said today that he and other members of the Democratic leadership met with Reid this morning and that the leader is "making a speedy recovery."
"His face and ribs are still sore," Durbin said. "He's eager to get back to work."
This is one of several hospital visits for Reid in the past 10 years. He suffered a mild stroke in August 2005 while in his hometown of Searchlight, Nevada.
Reid was taken to a hospital in October 2012 with minor injuries when his motorcade was involved in an accident in Las Vegas. In May 2011, Reid fell while running in Washington and dislocated his right shoulder.
Before it's here, it's on the Bloomberg Terminal.
LEARN MORE