Rahm Emanuel Shows Cautious Confidence in Chicago's Obama Library Bids
Failure to win the competition against New York or Hawaii would be a political embarrassment.
by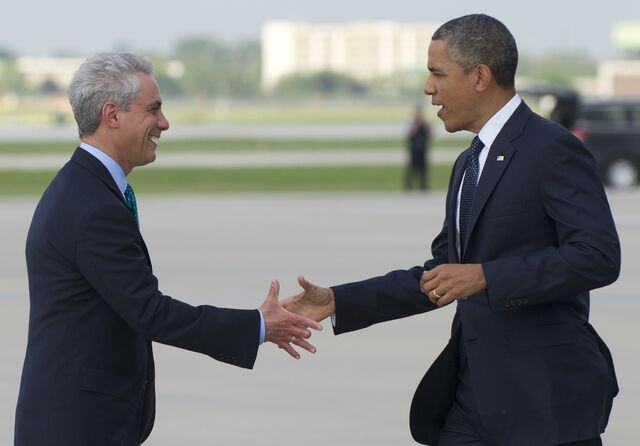 Chicago Mayor Rahm Emanuel, seeking to maintain a winning political issue for his re-election, Monday simultaneously downplayed the prospects of his city failing to win the Obama presidential library  and then warned that the risk of failure is still real.
"I wouldn't say trouble," he told reporters when asked about Chicago's two bids in a competition for the library site that pits the city against universities in New York and Honolulu. Yet he warned that more work needs to be done to edge out the competition.
For Emanuel, the politics of the library are pretty straightforward. He needs to show that he's playing an active role in securing what would be a major economic boost for the president's adopted hometown. A loss, while unlikely, would be a significant blow to the Second City mayor's image as a power-broker with strong ties to the White House. A win could bolster his re-election prospects ahead of a Feb. 24 election and possible April 7 runoff, should he fail to get more than 50 percent of the vote in the first balloting.
Late last month, the foundation that's planning and fundraising for the institution let it be known that it's concerned about the fact that the University of Chicago, the perceived front-runner, couldn't guarantee access to its proposed locations on the city's South Side because they sit on park district land. Emanuel, who was Obama's first White House chief of staff, made clear Monday that he plans to become deeply engaged in the process and will work to smooth over any bumps.
"I'm going to play a very active role," he said, adding that he doesn't want any "woulda, coulda, shoulda" should Chicago fail to win the library. "I want to make sure that the city of Chicago—if there are any issues—that we resolve those so we are competitive against New York and this becomes an easy decision for the president to pick his hometown for where his presidential library—in my view—belongs."
Emanuel said the library foundation has emphasized that "for Chicago to be competitive, certain things have to happen." Starting next week, the city will start a "public process" to address questions and concerns about the possible use of park land for the library, he said.
Besides the University of Chicago, other finalists for hosting the library include the University of Illinois at Chicago, Columbia University and the University of Hawaii. Obama grew up in Honolulu, graduated from Columbia in New York, and spent most of his career in Chicago, so all three cities lay claim to his biography and are seeking an institution that could generate millions in tourism dollars. An economic impact analysis commissioned by the University of Chicago last year estimated that construction alone would amount to $380 million, based on costs of other presidential libraries and anticipated features of an Obama library.
The U of C is considered the front-runner in part because Obama taught law there and his family and friends also have strong ties to the institution. It also has greater fundraising potential than all of the other universities, except for perhaps Columbia. The Barack Obama Foundation, created a year ago, has set a goal of picking a site as early as late March. The effort is being led by Marty Nesbitt, a longtime Obama friend from Chicago.
Before it's here, it's on the Bloomberg Terminal.
LEARN MORE