Photo of the Day: A Bandaged Harry Reid Misses First Day of New Session
The Senate minority leader tweeted a photo of himself working from home on Tuesday.
by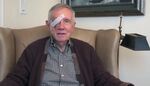 Senate Minority Leader Harry Reid is broken but unbowed. 
After suffering three broken ribs, a concussion, and broken facial bones near his right eye socket on Thursday during what the 75-year-old top Senate Democrat described as an exercise accident, Reid was hospitalized at University Medical Center in Las Vegas. His injuries were so severe that his doctors advised him against attending Tuesday's first day of the new Congress. Instead, Reid worked from his Washington, D.C., home, and tweeted out a photograph of a meeting with his leadership team, including Senators Patty Murray, Dick Durbin, and Charles Schumer. 
Even as Reid relinquished his position as Senate majority leader on Tuesday, his successor put partisan politics aside to wish him a fast recovery. 
"Senator Reid is a former boxer. He's tough. I know he'll be back in fighting form soon enough," Mitch McConnell said on the Senate floor.
Later in the day, Reid released the following YouTube clip addressing his injuries. 
Before it's here, it's on the Bloomberg Terminal.
LEARN MORE