Obama's Approval Rating Back in the Hole
The president's approval numbers went net-positive over the weekend. That's done now.
by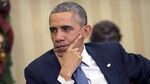 Well, that was short-lived.
President Barack Obama's approval rating is back in the red after a brighter moment this weekend when it was net-positive for the first time since 2013 in Gallup's daily tracking. After rising to 48 percent approval and 47 percent disapproval for the three-day period ending Jan. 2 (within the +/- 3 percentage point margin of error), Obama's numbers are back down to 44 percent approval and 49 percent disapproval for the three days ending Jan. 4.
Obama will head out on the road this week, making stops in Michigan, Arizona, and Tennessee to preview his upcoming State of the Union speech. With Washington and a newly convened Republican Congress in his rear view for a spell, the president can bask in the memory of that golden weekend when his poll numbers were not fantastic, but not as bad as usual. 
Before it's here, it's on the Bloomberg Terminal.
LEARN MORE