Jerry Jones: Christie's 'Part of Our Mojo'
The Cowboys owner paid for Chris Christie's trip to Dallas and wants him in Green Bay this weekend.
by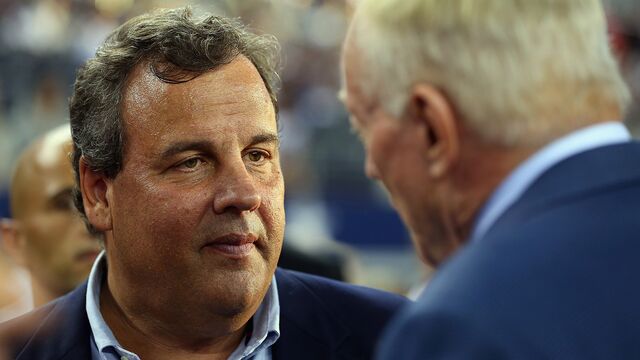 Dallas Cowboys owner Jerry Jones wants New Jersey Governor Chris Christie (and his orange sweater) to take a Lambeau Leap, and perhaps jump into the White House as well.
Jones told a Dallas radio station Tuesday that the Republican leader is the team's good luck charm and that he wants the governor in Wisconsin on Sunday, when the Cowboys face the Green Bay Packers at Lambeau Field in the NFC semifinal game.  
"He's part of our mojo," Jones said. "I want him there all the way. I'll tell you, if he's got enough mojo to pull this thing out, he ought to be looked at as president of the United States."
The governor, a longtime Cowboys fan, has come under fire for accepting Jones's offer of a free flight and a seat in Jones's box for Dallas' playoff game on Sunday against the Detroit Lions. After the Cowboys rallied for a come-from-behind victory, the governor and the mogul celebrated with a made-for-GIF victory hug.
A Christie spokesman confirmed that Jones paid to fly Christie to the game, sparking criticism because Jones has a business interest in a company that won a contract from the Port Authority of New York and New Jersey to operate the One World Trade Center observation deck. Christie, along with New York Governor Andrew Cuomo, controls the Port Authority.
Under an executive order signed by former New Jersey Governor James McGreevey, a governor may "accept gifts, favors, services, gratuities, meals, lodging or travel expenses from relatives or personal friends that are paid for with personal funds." 
Before it's here, it's on the Bloomberg Terminal.
LEARN MORE