Hatch's Well-Worn Gavel to Shape Deals in Republican-Led Senate
Richard Rubin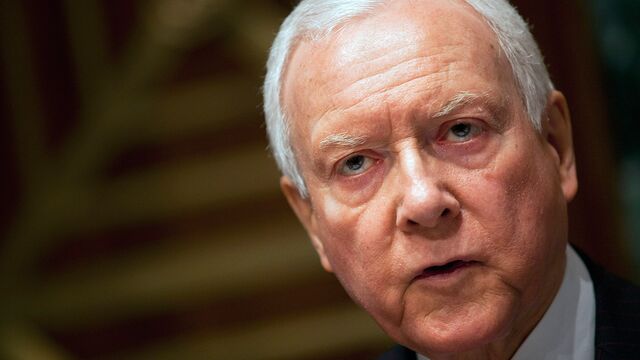 Orrin Hatch has been here before. And he was here before that. And before that.
The Republicans are taking over the U.S. Senate again, and just as in 1981, 1995 and 2003, the lawyer from Utah will have a central role, this time as chairman of the Finance Committee that controls tax, trade and health policy.
Hatch will start the year by trying to expedite free-trade deals and repeal a tax on medical devices, while working on the long-term project of revising the U.S. tax code.
It won't be easy.
As Finance chairman, the 80-year-old Hatch must contend with hardliners in his own party and Democrats wary of giving Republicans a victory -- a combination that leaves little room for compromise. He may have less than a year to make a real impact before 2016 presidential election politics overwhelm Congress.
To succeed, he'll draw on skills he used in the Senate while some of his colleagues were still in high school. In the 1980s and 1990s, he worked with Democrats to encourage manufacturers to make lower-cost generic drugs and expand legal protections for people with disabilities.
The senator "doesn't have his name associated with lots of things that lose," said Russ Sullivan, former Democratic staff director for the Finance Committee, pointing to the 1997 talks that created the children's health insurance program.
Memorable Speech
Sullivan recalled: "Hatch gave one of the most memorable speeches, that hasn't been made public, to tell his Republican colleagues, 'This is going to happen. This bill is going to pass. Things are going to happen. So we should get in there and craft it the way we want to.'"
When there's a big bipartisan effort that fractures Republicans, Hatch is often involved in creating it or voting for it. He started his political career as a conservative upstart who got his break by winning Ronald Reagan's support in a 1976 primary election.
Over time, he's moved from the party's ideological edges to its center.
Hatch backed the financial system rescue in 2008, the bill ending the government shutdown in 2013, a revamp of the nation's immigration laws that same year, farm legislation in 2014 and the U.S. government spending bill last month.
He's also been a combatant in the partisan tug-of-war that has made major bipartisan legislation a rarity in recent years. In 2012 Hatch tacked to the right to beat back a Tea Party-backed Republican primary challenger. He griped last year that Democrats who call themselves "progressives" are just "straight old dumbass liberals."
Health-Care Bill
He was in the room trying to negotiate a bipartisan health-care bill in 2009 with then-Senate Finance Chairman Max Baucus, a Montana Democrat -- and then left it to become one of Obamacare's chief opponents.
Like almost all Republicans, he voted against other major pieces of President Barack Obama's agenda -- the 2009 economic stimulus, the 2010 Dodd-Frank financial regulation law and a measure to make it easier for women to pursue employment-discrimination cases.
"I don't think there really are two Orrin Hatches," said Evan Liddiard, who served as his tax policy adviser for 20 years. "He's as conservative as many on the right, even some of the newcomers. But the difference is that he realizes that it's all about compromise."
Bennett's Loss
His 2012 re-election campaign was an attempt to avoid the fate in 2010 of fellow Utah Senator Robert Bennett, who lost the Republican nomination to current Senator Mike Lee.
Hatch's efforts to reconnect with the party's base impressed Phil Gramm, the former Texas senator who joined the Senate eight years after Hatch did, rose in seniority to become a committee chairman and left office more than 12 years ago.
"He proved you can teach an old dog new tricks," Gramm said. "He got out, he campaigned grassroots like you would if you were 30 years old. I admire that."
Gramm said he talked to Hatch during that period and that the veteran senator was trying to understand what his constituents wanted.
"After you've been in office and you've done all the things Orrin has," Gramm said, "it's easy to get into this sort of dead-end thinking, like 'if they don't want me, then the hell with them' approach."
Hatch, he said, did the opposite and worked to communicate his agreement with the aims of the Republican base.
Democrats Wondering
That has some Democrats wondering what to expect from Hatch as he approaches his career-capping Finance Committee chairmanship.
West Virginia Democrat Jay Rockefeller, who just retired from the Senate, said he was concerned about Hatch as Finance chairman because the Republican is "not a big fan" of the children's health insurance program he helped create. Its authorization expires in September.
"The question is: Where is he going to be on the issues?" said Rockefeller, a veteran Finance member. "You never stop worrying about legislation you care about. It can change on a dime."
Hatch was "deeply disappointed" with recent expansions of the program and wants to put it "back on a fiscally responsible pathway," said his spokeswoman, Julia Lawless.
For Hatch, the Finance chairmanship looks like the final act in his legislative career. He said in 2012 that his current term, which ends in January 2019, would be his last. Then, in a November interview with a Utah radio station, he left himself an opening to stick around to finish a revamp of the tax code. And he made a crack last month about living to be 100.
'Never Know'
"I can't even imagine doing that, especially in the United States Senate," he said during a retirement policy speech in Washington. "Then again, you never know."
Hatch will become the oldest first-time Finance Committee chairman and the oldest person to hold the post since 1898. He still arrives in the office by 7:30 every morning, but he doesn't walk quite as fast as he used to, and his off-script remarks sometimes send his staff scrambling to explain what he meant.
That doesn't mean he's out of the loop. He's one of the high-tech industry's top allies in Washington, and recently posted pictures on Twitter of himself meeting with the chief executive officers of Apple Inc. and Microsoft Corp. In 2013 he helped broker a deal in the Judiciary Committee, which he once led, to add visas for high-skilled workers, a priority for the industry.
Campaign Backers
The financial-services and pharmaceutical industries are the major backers of Hatch's campaigns, according to the Center for Responsive Politics, which tracks campaign money.
Hatch today became Senate president pro tempore, a post given to the majority's senior member. The job comes with a security detail and a spot in the presidential line of succession. (If Obama, Vice President Joe Biden and House Speaker John Boehner all die simultaneously, it's President Hatch.)
"I know one thing, it's not ceremonial," he told reporters in the Capitol. "It's a very political role."
Hatch declined an interview request and is waiting to spell out his agenda until he's officially named Finance chairman.
'Pro-Growth Agenda'
"Republicans have a real opportunity to drive a strong and successful pro-growth agenda that will help to reignite the nation's struggling economy to provide jobs and bigger paychecks for every American," he said in a statement. The party needs to "hold down spending, provide American families and job creators with responsible tax relief, and strengthen entitlement programs," he said.
Hatch's time frame for action is short because there's no guarantee Republicans will keep their 54-46 Senate majority after the 2016 election. The party will defend seats in seven states that Obama won in 2012, plus two more he won in 2008. Nine of the other 13 Republicans on the Finance Committee are up for re-election.
The senator has given plenty of hints about what he'll do. Early in the year, look for Hatch to try to repeal the excise tax on medical devices, which he called an "ungodly, terrible, stupid, dumbass tax" in 2014.
Trade policy will get early attention. The U.S. is negotiating multiparty agreements with Pacific nations and European nations, a process that would be accelerated by fast-track trade promotion authority, in which the deals would get up-or-down votes in Congress.
That's a chance for Hatch to find common cause with Obama, who wants fast-track over objections from some Democrats.
Highest Priority
Bipartisan cooperation won't be as easy on what Hatch called his "highest priority" -- the biggest revamp of the tax code since 1986.
"Despite the number of specific proposals that are out there, I don't know that we've even scratched the surface on the degree of difficulty we face when it comes to tax reform," Hatch wrote in the foreword to a 312-page analysis of tax ideas his staff released last month.
There's ample common ground between the parties on the importance of cutting the corporate tax rate and making the system simpler.
They're far apart on other big items, including whether the tax code should raise more money. Hatch calls that a nonstarter. Some Democrats say it's a prerequisite to help reverse federal spending cuts.
"Some additional revenue is essential," newly retired Senator Carl Levin, a Michigan Democrat, said at a breakfast with Bloomberg reporters and editors last month.
A tax-law rewrite and reversing the spending cuts are "the mechanism for deficit reduction," Levin said. "Where those two goals somehow or other come together and hopefully synchronize will be a major challenge, but it's doable."
Before it's here, it's on the Bloomberg Terminal.
LEARN MORE