Why John Boehner's Slap on the Wrist Could Have Been Harder
GOP rebels celebrate, but they lost some votes on the way to the floor.
by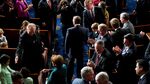 They kept the House in suspense for the better part of an hour. They won a sort of record-books victory, denying Speaker of the House John Boehner 25 votes, shrinking his total to 216. That was two fewer than a bare majority of a full House. Sure, Boehner didn't need 218 votes, because some members were absent.
Still, as Representative Tim Huelskamp of Kansas put it, Boehner "did not get a House constitutional majority." It was a major step forward from 2013, when rebel Republicans claimed they had enough votes to force a second ballot, but could command only nine.
"There were votes against Boehner in historical proportions," Huelskamp said on Tuesday, after the rebellion came up short. "Two years ago, it wasn't even close. Now, there's a bunch of folks who should have been on that list, who can't say we didn't have a chance."
There definitely were. Had the leadership lost every Republican who previously opposed Boehner, or told voters in 2014 that he opposed a new term for Boehner, the speaker would have won only 208 votes, or fewer. Representatives Mick Mulvaney of South Carolina, Raul Labrador of Idaho, and Steve Pearce of New Mexico all voted for Boehner after having denied him their votes in 2013. Among the new critics who ended up backing their captain:
Georgia Representative Barry Loudermilk, whose spokesman said 11 months ago that his boss would prefer "support someone who supports the Constitution and is going to fight for the Constitution" over Boehner. Today, he bemoaned that people like him did not get to vote for a "serious candidate."
Georgia Representative Jody Hice, who was clearly the outsider in his primary campaign, and gave every indication of following Representative Paul Broun's policy of rejecting the leadership. At a candidate forum during his tough primary, Hice said he'd support "new leadership, and new leadership with a backbone." He backed Boehner.
Wisconsin Representative Glenn Grothman, who also won a close primary, told Republican voters that he "would have no problem looking for an alternative to Speaker Boehner." In the end he voted for Boehner.
Those votes mattered, and not just because the speaker race was close. They mattered in 2014, when conservative pressure groups like the Madison Project and the Club for Growth extracted promises and pledges from candidates. As the vote became clear on Tuesday, there was a little jubilation on the right that the vote had been so tight, but a little more recrimination that more rebels hadn't stayed on board.
The case of Representative Mo Brooks of Alabama was instructive. Throughout 2014, he acted as if Boehner was already on the way out. "I'll be mildly surprised if he can get the 218 votes that the Constitution requires," he said in March. After the cromnibus passed, Brooks accused Boehner of "punting" on first down. 
Yet Brooks voted for Boehner. The rebels attributed some of the slack votes to lobbying from their colleagues. On Tuesday morning, Gohmert met with 11 Republican colleagues from the Texas delegation. Most of them wound up opposing his bid for speaker, but second-term Representative Randy Weber stood with him.
"I never agreed that the Republicans shut the government down," Weber said after the vote. "I didn't appreciate the leadership going on national TV and saying that. You had the president and the leader of the Senate who wouldn't negotiate–you can do the history."
That vote was already costing him. "I've already lost the authorship of one bill," Weber said. "Look, it shouldn't be that way. It was going to be a bill on regulation of clean nuclear energy."
Huelskamp, who had never tried to hide his disagreement with leadership, said with some pride that the rebels did not bargain for votes the way leaders did. "The speaker's folks were lobbying during the vote," he said, pointing out that Tennessee Representative Stephen Fincher held out until the final roll call to back Boehner. "They were probably saying, 'Hey, you get to keep your subcommittee chairmanship.' The subcommittee chairmanship I thought I was gonna get, I learned I lost this morning. The chairman called me, and said 'I worked really hard, but you're not going to get the chairmanship I thought you deserved to have.'"
Huelskamp chuckled. "Yeah, retaliation already."
Yet few of the rebels expressed any regrets. They had stood up to leadership, and it felt great. Florida Representative Curt Clawson, a towering former basketball player, cast a speaker vote for Kentucky Senator Rand Paul. After the vote, when he spotted Weber, he gave him a high-five.
"I'm all about Rand Paul," said Clawson to Weber. "You liked that one, didn't you, boy?"
Clawson had announced his vote in advance, in a tweet, and while other members had reached out to him before the vote, he wouldn't characterize what they told him. He wanted his vote to stand as an endorsement for a "better process" and more transparent bills.
"I think an outsider should vote for an outsider, and I'm for real on that," Clawson said. "We need more people in here who haven't spent their whole lives in legislatures. In sports, my coach would have called that a new voice. In business, you'd call it a new set of eyes."
Clawson, who's in no danger of losing his seat to a Democrat, had cast the vote conservatives asked him to cast. On talk radio, all day, the only Republicans who avoided opprobrium were the ones who stuck by their campaign talk and opposed Boehner.
"I would feel a lot better if everybody were ticked off at whoever was elected speaker," Rush Limbaugh said on his syndicated show. " I'd be much happier today if the media, if CNN was ripping whoever was elected Speaker, then I would know we got the right guy. But they're all smiles. Oh, yeah, the establishment, they pulled another one out, folks."
Erick Erickson, a conservative radio talker and the editor of RedState.com, had endorsed Jody Hice. "I know he voted against Boehner in the conference meeting back in December as did Loudermilk," he said. "And I know they both struggled with their vote today."
Still, Hice ended up with a vote that was "not consistent" with what he told voters. That, said Erickson, was "why so many people are cynical about politics. They elect people who say they're willing to stand up and even vote against Boehner and then don't. With that, it is hard for many to not get cynical."
Before it's here, it's on the Bloomberg Terminal.
LEARN MORE