Boehner Overcomes Rebellion for Third Term as House Speaker
Billy House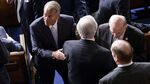 John Boehner was sworn in for a third term as speaker of the U.S. House of Representatives, overcoming a challenge within his party as a new Republican-led Congress convened today in Washington.
Boehner was re-elected speaker while fellow Republican Mitch McConnell took the gavel as Senate majority leader, marking the first time in eight years that the party has control of both chambers of the U.S. Congress. Republicans say they will confront President Barack Obama and congressional Democrats on a number of issues starting with votes to approve the Keystone XL oil pipeline from Canada.
Still, Boehner's 216-164 margin over Democratic leader Nancy Pelosi meant he was supported by fewer than half of the House's 434 members. More than 20 lawmakers didn't attend the session's opening day, and 24 of his fellow Republicans voted for someone else.
Representative Daniel Webster of Florida, a surprise Republican recipient of 12 votes, said afterward that he hoped a message had been delivered to Boehner that rank-and-file Republicans want a more "member-driven legislative process."
Such a process would involve "spreading out the base so that every member gets to be effective," Webster said.
Such hopes will almost certainly be tested in the coming months as decisions come due that have previously divided Republicans, such as government spending and raising the U.S. debt limit. Some Republicans contend Boehner is too quick to compromise with Obama and other Democrats.
Not 'Tidy'
In a short speech before he was sworn in, Boehner urged House members to "prove the skeptics wrong" and find common ground on legislation. "This won't be done in a tidy way. The battle of ideas never ends and frankly never should," the speaker said.
The House's work may seem like "shadow boxing and show business" to some, though "it's real work," Boehner said. "And it should be to preserve the things we hold dear."
In addition to Webster, those who got votes from the 24 Republicans defectors included Senator Rand Paul of Kentucky and Representatives Louie Gohmert of Texas, Ted Yoho of Florida and Jim Jordan of Ohio.
Four Democrats voted for someone other than Pelosi, with Representative Jim Cooper of Tennessee backing former Secretary of State Colin Powell. House rules don't require that the speaker be a member elected from a district.
Bigger Majority
Boehner, 65, has a more muscular House majority of 246 Republicans -- with 188 Democrats -- compared with the previous session's 234-201. One seat is vacant following the resignation yesterday of New York Republican Michael Grimm, who pleaded guilty to a federal tax charge.
Second-ranking House Democrat Steny Hoyer of Maryland had said some Democrats would miss the speaker's vote, including several from New York attending former Governor Mario Cuomo's funeral.
Senate Minority Leader Harry Reid -- who suffered a concussion, three broken ribs and broken bones in his face last week in an exercising accident -- didn't come to the chamber today. Reid, 75, of Nevada is working from home in Washington, and second-ranking Democrat Richard Durbin will fill in until Reid can return, said Reid spokesman Adam Jentleson.
Boehner will have to share the mantle of top Republican in Washington with McConnell, 72, of Kentucky, after having it to himself for four years. Boehner has been a chief foil for Obama and congressional Democrats in battles over the budget, debt and spending. A dispute over Obamacare led to a 16-day partial government shutdown in October 2013.
Swift Action
Boehner and McConnell have promised swift action starting this week on the Keystone pipeline and other bills they say will spur employment -- a veterans' hiring measure and a change to Obamacare to require employers to provide health care only to workers who put in more than 40 hours a week. That's up from the current 30-hour threshold.
Opening-day comity didn't last long, as White House spokesman Josh Earnest said today that if the Keystone bill passes Congress, the president wouldn't sign it.
Boehner responded in a statement that Obama was siding with "fringe extremists" in the Democratic party.
In the speaker's election, a promised insurrection by members of Republicans' Tea Party caucus fell short, similar to a failed rebellion against Boehner in the speaker's election in January 2013. More Republicans voted against Boehner today than two years ago.
Anti-Government Members
The vote was a reminder of the struggles Boehner has had to wage with anti-government members of his conference.
Since becoming speaker, Boehner has needed help from Democrats to pass appropriations bills, provide aid to victims of Hurricane Sandy, renew the Violence Against Women Act, raise the U.S. debt ceiling and end the shutdown in 2013.
Last month, 57 Democratic votes were needed to narrowly pass a $1.1 trillion spending bill just hours before government funding was set to run out.
Boehner, a 24-year veteran of the House and one of 12 children of a working-class family near Cincinnati, achieved a personal ambition when Republicans under his leadership captured the House majority in 2010.
He keeps the speaker's gavel at a time when public polls continue to show congressional approval numbers at historic lows.
The Gallup Poll has shown public approval of Congress at 20 percent or lower since November 2012, dropping to as low as 9 percent in November 2013 after the government shutdown. In mid-December the approval rating was 16 percent, compared with 80 percent disapproval.
Before it's here, it's on the Bloomberg Terminal.
LEARN MORE