With Eye on 2016, Walker Puts Inauguration Emphasis on the States
Five takeaways from the Republican's speech.
by and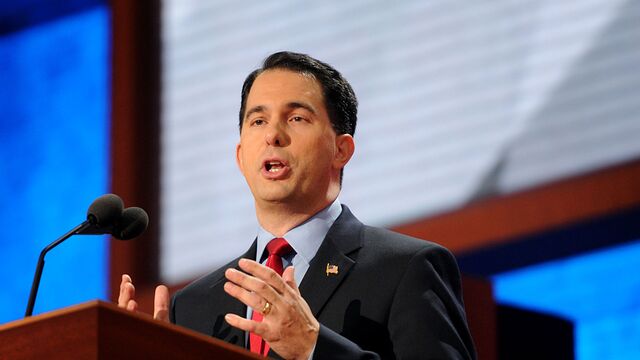 Wisconsin Governor Scott Walker sold the importance of states—and argued for a reduced role for Washington—as he unveiled his vision Monday for a second term and a potential 2016 presidential bid.
In an inaugural address in Madison that was lean on specifics, the Republican showcased his preferences for limited government and pledged to merge state agencies to make them "more effective, more efficient and more accountable" to state residents.
"We've been good stewards of the taxpayers' money and lowered their tax burden as well," Walker said. "We've shown why the founders of this great nation looked to the states—and not the federal government—as the source of hope for this exceptional country."
Walker also stressed a more local, family-centered view on education, something traditionally popular with conservatives. "We will ensure that every child—regardless of background or birthright—has access to a quality education," he said. "For many, like my sons and me, it is in a traditional public school. For others, it may be in a charter, a private, a virtual or even a home school environment. Regardless, we will empower families to make the choice that is right for their sons and daughters."
Walker, 47, won re-election to a second four-year term in November, bolstering his status among Republicans who applauded his 2011 move to restrict collective bargaining for most public employees. That victory, along with his survival of a recall attempt in June 2012, made for his third victory at the polls in four years.
"He knows the drill," quipped his wife, Tonette, as her husband was about to be sworn in.
Although Walker has said he intends to serve out his next term, he also hasn't been shy about the possibility of a 2016 run. He met last month with Las Vegas casino magnate Sheldon Adelson, who has financially backed Walker and other prominent Republicans nationally.
Democrats were quick to pan Walker's speech and suggest that he's more focused on a presidential bid than problems closer to home. "Just like four years ago, Scott Walker is beginning his term in office with a massive structural deficit," Mike Tate, the chairman of the Democratic Party of Wisconsin said in a statement. "That's about where the similarities end when it comes to the Wisconsin Scott Walker inherited, compared to the one he is passing along to himself—or rather; the one he'll be passing over as he courts Tea Party primary voters in Iowa and New Hampshire as he campaigns for president." 
Here are five takeaways from Walker's inaugural address:
1. It's hard to campaign nationally with a state budget mess at home
Tax cuts and Medicaid spending are contributing to a projected budget deficit that may reach $2.2 billion in the two-year period starting in July 2015, according to an analysis by Walker's own administration. His aides have called the projections premature, while Democrats argue the figures prove the governor's income and property-tax reductions have turned a surplus into a shortfall. In his speech, Walker didn't address those pressing budget matters in an expansive way.  "Budgets will be set based on the taxpayers' ability to pay and not on the government's ability to spend," he said.
2. Walker wants to test working-age recipients of public benefits for drugs
Such a proposal would almost certainly face legal challenges, but it could be a winning issue among conservatives in states like Iowa, New Hampshire and South Carolina, even if it is tied up in the courts for years. He didn't address this controversial topic in his remarks.
3. Running against Washington is rarely a bad idea, but it's now more complex for Republicans
With the party taking control of both the House and Senate, it will be much harder to solely blame Democrats for inaction. "In contrast to the politicians along the Potomac, we get things done here in the Badger state," Walker said. "There is a clear contrast between Washington and Wisconsin."
4. If you are running for the Republican nomination, it's always good to talk about God
Walker did, in the first sentence of his prepared remarks, showcasing his childhood as "son of a small-town pastor." He also reminded listeners that he sat down to pray with his wife about making the decision to first run for governor. 
5. Talking about the virtues of the private sector is also a good thing
"In Wisconsin, we understand that true freedom and prosperity do not come from the mighty hand of the government," said Walker, who has worked for state and local governments since his first election in 1993. "They come from empowering people to control their own lives and their own destinies through the dignity that is born from work."
Before it's here, it's on the Bloomberg Terminal.
LEARN MORE