The Long War Between Mike Huckabee and the Club for Growth
The oldest personal fight in the GOP.
by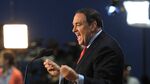 If you want a strong example of the media's short memory, look no further than today's attack on former Arkansas Governor Mike Huckabee from the Club for Growth. It took around 36 hours for the Club, which just changed leadership, to issue an attack on Huckabee after he said he was leaving Fox News to consider a White House bid. "In a year in which GOP voters appear likely to have several good pro-economic growth candidates to choose from," said Club president David McIntosh, "Mike Huckabee's big government record would stand out from the crowd."
Generally, this was reported as a blow to his conservative cred. "Although Huckabee is thought to have a strong claim to the conservative wing of the Republican Party should he run for president," wrote Rebecca Berg in the Washington Examiner, "the Club For Growth begged to differ." In the Washington Times, the Club succeeded in getting its announcement twinned with Seth McLaughlin's exclusive Huckabee interview.
The Club's early attack was news, sure, but as predictable as photosynthesis. The Club for Growth's war with Huckabee dates back 14 years, and has carried on through multiple changes at the top of the organization. In 2001, when Arkansas's safest Republican House seat opened up, the Club for Growth backed an optometrist named John Boozman. Huckabee backed one of his few Republican legislative allies, a state senator named Gunner DeLay. This was a lifetime before the Tea Party, and an early test for the Club's strategy of driving the GOP right by winning primaries.
Huckabee took it personally. "It's time to decide whether being conservative means being Reagan or Rambo," he snarked on a campaign swing for DeLay, as reported by the Associated Press. "We need to decide whether to elect people who make good decisions or good speeches, whether we want someone who is informed or inflammatory."
Voters picked "inflammatory." Boozman won. Five years later, when Huckabee first started exploring a presidential bid, the Club immediately attacked him because he'd presided over tax increases. "Have money, will shoot is their motto, apparently," Huckabee said on a 2007 swing into South Carolina, according to the AP. Later, pressed by Bush speechwriter-turned-Washington Post columnist Michael Gerson, Huckabee explained that the Club "viewed everything as accounting" and wasn't realistic. It was the "Club for Greed," not growth.
"For a kid with asthma, who is sitting on the steps of a hospital—let them have an economic policy that doesn't care about that kid," Huckabee told Gerson.
Later, in an interview with Fox News, Huckabee called the Club "despicable." He was rewarded with the Club's release of a 2003 speech that Huckabee had given to the (Democratically-controlled) legislature.
"There's a lot of support for a tax at the wholesale level for tobacco, and that's fine with me," said Huckabee, in full color. "I will very happily sign that. Others have suggested a surcharge on the income tax. That's acceptable. I'm fine with that."
The video wounded Huckabee, but did not stop him from winning the Iowa caucuses. He would remember that. Ever since, he has attacked the Club and its candidates, often plowing into races where he assumes he has a following to endorse a candidate over the Club pick. He often loses. But the fights, and the losses, don't register when he weighs his support from conservative voters for 2016.
Before it's here, it's on the Bloomberg Terminal.
LEARN MORE