McConnell's Challenge: Please the Base, Keep the Majority
Kathleen Hunter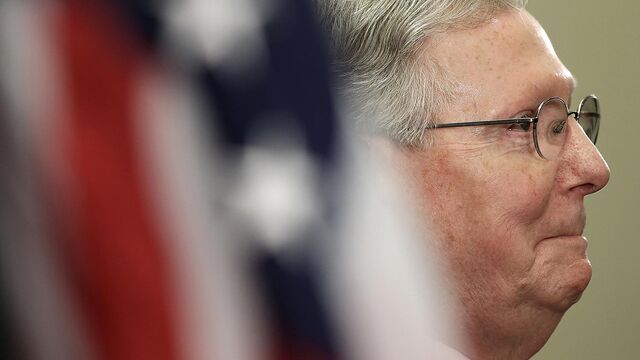 Mitch McConnell must balance twin goals as the new majority-Republican U.S. Senate convenes tomorrow: pushing through measures to please the party's base without harming members who will seek re-election -- or the presidency - - in 2016.
Republicans get to set the Senate agenda for the first time in eight years. Yet their new 54-46 balance of power still contains the recipe for past gridlock, with too few votes to overcome united Democratic opposition or vetoes by President Barack Obama and plenty of members eager for a fight.
McConnell will give Republicans what they want, first with a vote to approve the Keystone XL oil pipeline after a committee vote planned for Thursday. Obama hasn't said whether he will sign or veto Keystone legislation, and a pending Nebraska court ruling has put the project in limbo.
McConnell also will try to curb Obama's energy and environmental regulations, chip away at Obamacare and block the president's order easing deportation for undocumented immigrants.
Amid the tussles will be a handful of issues where McConnell and the president can find common ground, such as trade pacts with the Pacific region and Europe that many of Obama's fellow Democrats have opposed, and fast-track authority that would give trade deals an up-or-down vote in the Senate.
Difficult Election
"He goes into a more difficult election cycle" in 2016, said New York-based pollster John Zogby. "He has to show some results and can at least pick some low-hanging fruit by supporting free trade, corporate tax cuts and some elements of the president's military budget."
Revamping the corporate tax system still may be difficult. While there's ample agreement between the parties on reducing the corporate rate, incoming Senate Finance Chairman Orrin Hatch of Utah said lawmakers haven't "even scratched the surface on the degree of difficulty we face" in rewriting tax laws.
All the while, McConnell's eyes will be on the 2016 election as he seeks to avoid losing the majority back to the Democrats after just two years. Republicans must defend 22 Senate seats compared with nine for Democrats, a reversal from the past two elections when significantly more Democratic seats were on the ballot.
Math 'Flipped'
"The math is almost entirely flipped," said Jim Manley, a former aide to Democratic leader Harry Reid of Nevada, who now becomes minority leader. "That's partly what Senator McConnell is going to have to juggle."
Republicans won nine Democratic-held seats. They'll need support from at least six Democrats to pass major legislation -- similar to the situation that stymied Democrats when they were in power.
McConnell, 72, of Kentucky will be scheduling votes on measures Republicans have wanted to pass for years. Such votes may help at least four Senate Republicans who say they are considering presidential campaigns: Rand Paul of Kentucky, Marco Rubio of Florida, Lindsey Graham of South Carolina and Ted Cruz of Texas.
"I have no problem with people's ambitions," McConnell told reporters the day after the election. "I think we can accommodate that and still make progress for the country."
Manley predicted "a race to the right" by presidential contenders in the Senate.
Rough Edges
"That doesn't bode well for any Senate Republican up for re-election in 2016 that's trying to smooth out the rough edges of the Republican Party," he said.
Cruz infuriated fellow Republicans in December by keeping the Senate in Washington for a Saturday session on Dec. 13 so he could protest members' decision not to immediately seek to block Obama's immigration orders. Democrats took advantage of the extra time to confirm dozens of presidential nominees they otherwise may not have had time to address.
Cruz's effort blindsided McConnell and showed how tricky it will be for the new majority leader to run the Senate.
Such moves may make life more difficult for moderate Republicans such as first-term Senator Mark Kirk of Illinois, who is up for re-election in 2016. His seat is one of seven that Republicans will defend next year in states Obama won in 2008 and 2012.
Gun Purchasers
Under the Democratic majority, Kirk was one of the few Republicans willing to support such proposals as stronger background checks for gun purchasers. That stance plays well in Illinois, which has some of the strictest gun laws in the country and hasn't supported a Republican presidential candidate since 1988.
In an interview at the end of December, Kirk said he doesn't think his fellow background-check supporters, Democrat Joe Manchin of West Virginia and Republican Pat Toomey of Pennsylvania, will be able to revive their failed proposal.
"I doubt, in the Republican majority, if they can do any gun-control stuff," Kirk said in the interview at the Capitol. "I don't think we could schedule it ever."
Senate Republicans probably will have the votes to approve TransCanada Corp.'s Keystone pipeline, which came within one vote of passing the Democratic-led chamber in November. The Republican-controlled House can easily pass a Keystone bill. The question is whether Congress could muster the two-thirds votes to override a presidential veto if Obama rejected the measure.
Repealing Obamacare
McConnell has said repeatedly that he wants to repeal Obamacare, enacted in 2010 to provide coverage for millions of previously uninsured Americans. In a Dec. 4 interview on Fox News, he acknowledged he probably wouldn't get the necessary support from six Democrats.
Republicans can try to revise pieces of Obamacare, such as repealing a tax on medical devices that helps fund the law. Another proposal would let employers avoid providing health coverage to workers who put in less than 40 hours a week, up from the law's 30-hour threshold.
Rubio, meanwhile, is leading a Republican charge to block Obama's move to normalize relations with Cuba. He's also seeking more sanctions against Iran over its nuclear program and has said he doesn't see prospects for an agreement between the Muslim nation and world powers.
McConnell, who has said he will back Paul's presidential campaign if he runs, says he'll follow Rubio's lead on Cuba. That would put him at odds with Paul, who has criticized Rubio's position.
Fast-Track Trade
While Obama and many Republicans agree on fast-track trade deal authority, the proposal is opposed by Democrats, who say it may cost jobs in the U.S., and some Tea Party-backed Republicans who are against giving Obama added power.
Many Republicans say they plan to use the expiration of funding for the Department of Homeland Security in late February to challenge Obama's orders easing deportation for millions of undocumented immigrants.
Votes on red-meat issues might be politically difficult for some Republicans, particularly the seven facing re-election next year in states Obama won twice. In addition to Kirk, Toomey and Rubio, they are Rob Portman of Ohio, Ron Johnson of Wisconsin, Kelly Ayotte of New Hampshire and Charles Grassley of Iowa.
The party also will try to keep seats held by Richard Burr in North Carolina and Dan Coats in Indiana, states Obama won in 2008 before losing them in 2012.
'Responsible' Majority
McConnell promised "a responsible, right-of-center governing majority" in an interview with Roll Call after the November election.
It was McConnell who successfully reached deals with Senate Democrats and Obama to raise the debt ceiling in 2011, avert the fiscal cliff in 2012, and reopen the federal government in 2013 after a 16-day shutdown —- an effort, led by Cruz, to defund the health-care law.
McConnell has pledged that he will regularly allow members of both parties to offer amendments to bills, a move he said follows Senate tradition. That would open the door to Democrats forcing votes on proposals that could prove politically challenging for Republicans in Democratic-leaning states.
In the months before November's election, Reid sought to protect his vulnerable incumbents by limiting senators' ability to amend legislation on the Senate floor. The thinking was that by shutting off amendments, Democrats could prevent Republicans from forcing them to take difficult votes.
Strategy Backfires
The strategy backfired somewhat when Democrats from Republican-leaning states, such as Mark Begich of Alaska, complained that a lack of votes on their state-based priorities hamstrung their re-election efforts. Begich was among five incumbent Democrats who lost their seats.
McConnell, who said shortly after Obama took office that he wanted to make sure the president didn't get a second term, told CNN yesterday, "I think you can say both of us came up short. I had hoped to make him a one-term president and he had hoped to defeat me last fall."
Voters "want us both to still be here, they want us to look for things to agree on, and see if we can make progress for the country," he said.
Before it's here, it's on the Bloomberg Terminal.
LEARN MORE