Jeb Bush Softens Tone as Gay Marriage Begins in Florida
"We have to respect the rule of law," he says a day after expressing disappointment that a judge took action.
by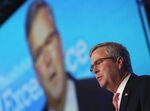 There will be a party in Miami tonight, but Jeb Bush won't be celebrating. 
A circuit court judge cleared the way for same-sex marriages to begin in Miami-Dade county Monday, one day before the rest of the state was set to follow suit, according to the Miami Herald.
Bush, the former Florida governor who is considering a bid for the 2016 Republican presidential nomination, indicated Sunday that he did not approve of the court's decision to overturn the will of the voters as expressed in 2008.
"It ought be a local decision. I mean, a state decision," Bush told the Herald. "The state decided. The people of the state decided. But it's been overturned by the courts, I guess."
Once same-sex marriage is extended to the rest of Florida, the practice will be legal in 36 states, as well as the District of Columbia. The stunning pace at which gay marriage has swept across the country since Massachusetts became the first state to allow the unions in 2004 has, at times, made politicians look flat-footed, such as in the case of President Barack Obama's own "evolving" position on the issue.
Bush's evolution didn't take long, however. Hours after gay couples began getting married in Miami-Dade, the former governor softened his tone on the court's action. 
"We live in a democracy, and regardless of our disagreements, we have to respect the rule of law," Bush said in a statement Monday evening. "I hope that we can show respect for the good people on all sides of the gay and lesbian marriage issue—including couples making lifetime commitments to each other who are seeking greater legal protections and those of us who believe marriage is a sacrament and want to safeguard religious liberty."
Before it's here, it's on the Bloomberg Terminal.
LEARN MORE