Amid Scalise Woes, Earnest Says Republican Leadership Says 'a Lot' About Values
Angela Greiling Keane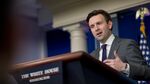 President Barack Obama's spokesman said Republicans standing behind Representative Stephen Scalise, who gave a speech 12 years ago to a white supremacist group, "says a lot about" the party's values and priorities.
White House press secretary Josh Earnest sought to fan the controversy without giving an answer to a question about whether Scalise should remain as the third-ranking Republican in the U.S. House. He said today it was up to the Republican members to pick their leaders, and linked their choices to the national party committee's attempts to lure minority voters.
"Who those elected leaders are says a lot about who the conference is and what their priorities and values are," he said at a briefing, "and they're going to have to answer for themselves whether or not elevating somebody who described himself as 'David Duke without the baggage' sort of reinforces the kind of message that the House Republican Conference wants to project."
Scalise, a Louisiana Republican, gave a speech in 2002 to a group founded by Duke, a former grand wizard of the Ku Klux Klan. Last week, Scalise, who was a state representative at the time, called his speech to the European-American Unity and Rights Organization "a mistake I regret."
House Speaker John Boehner, an Ohio Republican, and Majority Leader Kevin McCarthy, a California Republican, said after reports about the speech emerged that they supported Scalise, who won the No. 3 leadership post in June.
Without Baggage
Earnest, responding to questions, repeatedly referred to Scalise as describing himself as "David Duke without the baggage."
The reference comes from a column published Jan. 3 in the New Orleans Advocate in which Stephanie Grace wrote: "This is what I remember about the first time I met Steve Scalise nearly 20 years ago: He told me he was like David Duke without the baggage." Scalise isn't directly quoted in the article.
In a 1999 interview with Roll Call, a newspaper in Washington amid a campaign for an open House seat, Scalise said he has many of the same "conservative" views as Duke and would be more easily elected. "Duke has proven that he can't get elected, and that's the first and most important thing," Scalise said, according to Roll Call.
Scalise today didn't respond to questions from reporters at the Capitol. He previously disavowed Duke, a prominent white supremacist, who served in the Louisiana legislature from 1989 to 1992.
"I emphatically oppose the divisive racial and religious views groups like these hold," Scalise said in a statement last week.
Before it's here, it's on the Bloomberg Terminal.
LEARN MORE