De Blasio Touts Lower Crime Rate as He Seeks to Ease Police Tensions
Henry Goldman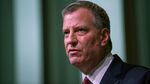 Crime in New York fell 4.6 percent in 2014, with homicides at a modern-day low of 332, Mayor Bill de Blasio said in a speech in which he sought to ease tension with the city Police Department.
De Blasio spoke today at a news briefing at Police Plaza where he was joined by Police Commissioner William Bratton. It came a day after hundreds of officers turned their backs to a video monitor on which the mayor eulogized Officer Wenjian Liu, 32, just as they did at the funeral last week of his partner, Rafael Ramos, 40. Both were slain Dec. 20 as they sat in their squad car in Brooklyn.
While highlighting the crime-fighting accomplishments, de Blasio, a 53-year-old Democrat, attempted to play down friction with the Police Department, which he called the "world's greatest."
"I believe that our positive vision will win the day," the mayor said. "The people want us to come together and that positive vision will prevail over the voices of disunity and discord."
De Blasio and his antagonists, the leaders of five police unions, each say their fraught relations won't affect the city's ability to fight crime, yet for the seven days ending Jan. 4, the department recorded 2,401 arrests, compared with 5,448 for the same period in 2013, and 347 criminal summonses compared with 4,077 last year, the New York Times reported today. Parking and traffic tickets dropped more than 90 percent, the newspaper reported.
Task Force
Bratton said a task force of commanders would analyze where, when and who was responsible for the reductions to determine whether they resulted from a deliberate work slowdown or from a combination of the holidays coinciding with changed police deployments to deal with demonstrations against police violence, and grief over the slain officers.
"I haven't used the word 'slowdown'," Bratton said. "If that's what it is, we'll call it that and deal with it accordingly. We're not in a public-safety crisis in any shape of the word," he added, noting that homicides and shootings are down compared with the first five days of 2013.
Bloody Hands
Although rank-and-file officers have displayed anger toward New York leaders in the past, few mayors have won election on such a sweeping agenda of changing the Police Department's policies and practices as de Blasio. Since taking office a year ago, the self-described progressive Democrat campaigned on a platform of restricting stop-and-frisk street encounters and promising to improve what he said was a poor relationship with minority communities.
De Blasio, who's married to a black woman, increased some officers' sense of grievance by saying he had counseled his own teenage son to beware of encounters with police.
Patrick Lynch, president of the 25,000-member Patrolmen's Benevolent Association, has said he supports the administration's efforts to improve relations with the community.
The union lobbied against quotas requiring too much use of stop-and-frisk tactics, even before de Blasio announced his mayoral candidacy in January, 2013, union spokesman Al O'Leary said in an interview last week.
Union leaders accused the mayor of fomenting an environment that led to the shootings by supporting demonstrators' right to protest police violence, and after the shootings, Lynch said "blood on the hands" starts at City Hall.
The accusation, de Blasio said today, "was totally inaccurate, totally unfair," and "disrespectful to the people of this city."
Bratton said the officers had participated in "what was effectively a labor action in the midst of a funeral" even after Bratton had urged them not to demonstrate such defiance saying, "a hero's funeral is about grieving, not grievance."
Before it's here, it's on the Bloomberg Terminal.
LEARN MORE