The Wooing of Mike Huckabee: How Conservative Pastors Got Their Man
The backstory to Huckabee's maybe-sort-of 2016 run.
by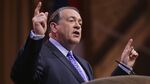 On Nov. 14, 2014, former Arkansas Governor Mike Huckabee stood inside the Auschwitz II–Birkenau prison camp and asked 18 fellow Christians to think about something unpleasant. They were on day three of "The Journey: A Spiritual Awakening," a 10-day trip from Poland to the United Kingdom to southern California, tracing the steps of Pope John Paul II, Margaret Thatcher, and Ronald Reagan. Organized by David Lane and the American Renewal Project, it brought influential activists and pastors with ties to Iowa politics together with Huckabee, who acted as an affable guide and host. And the prison camp had made him think.
"These was your brightest, your highest educational minds, your intellectual elite, and they spent their time and their skill devising a system that would kill their fellow man en masse with the least mess," Huckabee said, according to Tamara Scott, an RNC committee member from Iowa who went on the trip. "So, think that through. How horrific is that?"
Scott was impressed. "He has such a wonderful way of explaining a situation to anyone at any level," she said. "He can bring people together and, in a very down-to-earth way, talk through the day's issues. I remember him telling us—don't just be a tourist through history."
He didn't sound like someone who'd given up on politics for life as pundit. Saturday night, less than two months after the post-election "Journey," Huckabee ended his Fox News show and told viewers what he'd told members of his PAC's e-mail list. "The honorable thing to do at this point is to end my tenure here at Fox so I can openly talk with potential donors and supporters and gauge support," he said. He made a quick pitch for his new politics book, titled God, Guns, Grits, and Gravy, and he walked away from a gig that had lasted six and a half years, making him wealthy for the first time.
(Earlier in the day, Huckabee had used the e-mail list for a sponsored message from a company 4Patriots. The subject was "The #1 Item You Should Be Hoarding," and the text warned potential buyers that "if you don't take action to get your food stockpile right now, you'll be in the same boat as the brainwashed masses who think 'everything is fine.'" It was another reminder of the lucrative business that Huckabee could, for the time being, be walking away from.)
Huckabee's quasi-announcement thrilled the sort of voters who backed his 2008 bid. Importantly, many of those voters live in Iowa. At a summer gathering of the FAMiLY Leader, a conservative group led by Bob Vander Plaats, many people wore buttons with Huckabee's face and a number—75 percent. That was his chance of running in 2016, as he'd told one interviewer. When Huckabee stumped for 2014 Iowa Republican candidates, he was embraced by fans who watched his show and monitored a #hopingforhuckabee hashtag.
"I've known since last February he was running, so this is no surprise," said Steve Deace, a Des Moines-based conservative radio host. "The good news of a Huckabee run is his presence in the race will mean no one will get away from ducking the so-called 'social issues' that are so important to the GOP base."
The additional good news is that Iowa evangelicals never stopped liking Huckabee. In 2013, some of the same people who would go on the Poland trip personally appealed to Huckabee, asking him to consider a run. His decision not to run in 2012 opened a door for former Pennsylvania Senator Rick Santorum, who ended up narrowly winning the caucuses. In current polls, Huckabee earns roughly three times as much Iowa Republican support as Santorum. In conversations Saturday night, even strategists who planned to work for other candidates called Huckabee the Iowa frontrunner.
They also argued that he was weaker than he'd been in 2008. The likely 2016 field would be more competitive than 2008's, when Huckabee only had to get past the somnolent Fred Thompson and Mitt Romney, who spent heavily in Iowa but struggled to win over voters skeptical of his Mormonism and past pro-choice views. The Iowa FAMiLY Leader event, a cattle call for social conservatives, featured speeches from Santorum, Louisiana Governor Bobby Jindal, Texas Senator Ted Cruz and Texas Governor Rick Perry. None of them had ruled out a run, and neither had neurosurgeon Ben Carson or Kentucky Senator Rand Paul.
Several of those candidates had already condemned Common Core, the educational standards that have become absolutely toxic on the right. On Saturday night, Huckabee's critics started pointing out that he had not fully turned on the program. "Let's not make this something that we're going to shed blood for no particular value to the students," Huckabee said in August 2014. "I want to fight for students. The fight is not about the program or what it's called."
That could be an opening for an attack against Huckabee, much as his immigration stances had been thrown back at him in 2008. But every Republican contender will get into the muck about something in his record. Few of them are so personally trusted and beloved by social conservatives as Huckabee is. And no one else was with them two months ago, at one of the Nazis' death camps, assuring them that he understood their struggle against evil.
Before it's here, it's on the Bloomberg Terminal.
LEARN MORE