Obama Pays Tribute to ESPN Legend Stuart Scott
The ESPN anchor died Sunday.
by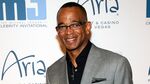 After an extended fight with cancer, Stuart Scott, the ESPN anchor and catchphrase king, has died at the age of 49, the sports channel announced Sunday.
Known for his contributions to the sports-announcing vernacular—"As cool as the other side of the pillow" and "he must be the bus driver cuz he was takin' him to school" are just two signature phrases that many are mentioning today—Scott was diagnosed with cancer in 2007 and had spoken openly about his ongoing battle with the disease.
The news of his passing sparked an instant outpouring of remembrances in the NFL community and among "SportsCenter" fans across the country.
Not surprisingly among them was the commander-in-chief of the United States.
In a statement e-mailed by the White House on Sunday, President Barack Obama said:
"I will miss Stuart Scott. Twenty years ago, Stu helped usher in a new way to talk about our favorite teams and the day's best plays. For much of those twenty years, public service and campaigns have kept me from my family—but wherever I went, I could flip on the TV and Stu and his colleagues on SportsCenter were there. Over the years, he entertained us, and in the end, he inspired us—with courage and love. Michelle and I offer our thoughts and prayers to his family, friends, and colleagues."
Before it's here, it's on the Bloomberg Terminal.
LEARN MORE