Obama Drops in on Eddie Vedder
The Pearl Jam frontman has been a political supporter of Obama.
by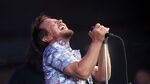 President Barack Obama is pretty open about the fact that his teen daughters, Sasha and Malia, don't always think he's that cool. But he may have helped his cause at least a little when he and the girls made a visit Saturday to see rocker Eddie Vedder and his family on the Obamas' last day of vacationing in Hawaii. 
The Pearl Jam frontman has been an ardent Obama supporter. Singing at a 2012 fundraiser in Tampa for the president's re-election campaign, Vedder grabbed headlines in the mainstream press and music outlets, including Rolling Stone magazine, when he took a swipe at Republican nominee Mitt Romney's infamous 47 percent comments about taxpayers, saying it was "very upsetting to hear a presidential candidate be so easily dismissive of such a ginormous amount of the population." He also made a birther joke, saying that the Hawaiian ukulele he was playing "has a little birth certificate." 
Vedder drew controversy in 2013 when, according to the Huffington Post, he said that "I almost wish bad things" on people who oppose gun control but that bad things seem to find gun advocates on their own, including the accidental shootings of family or pets.
Among the band's causes is carbon mitigation, according to the group's website. Obama's visit comes as he seeks to add to his legacy on environmental issues. The president is set to return to Washington on Sunday morning. 
Before it's here, it's on the Bloomberg Terminal.
LEARN MORE