Freshman Congress Members Face Final Weekend of Freedom
A new class of lawmakers is about to dive into Washington politics, an arena many of them declared a cesspool during their campaigns.
by and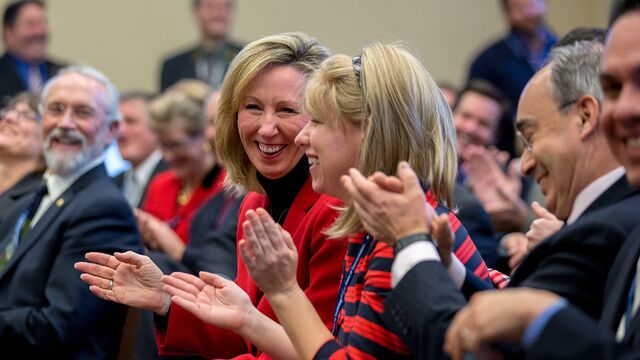 It's the final weekend of freedom for the 74 men and women who will make up the freshman class of the 114th Congress. They're about to dive into Washington politics, an arena many of them declared a cesspool during their campaigns. Some may be unrecognizable the next time they come up for air.
So how to spend these final pre-lawmaking days?
Many will be traveling from their home districts and settling in to their new D.C. digs—they can pick up their office keys Saturday morning. They're winding down their old jobs and hiring staff members to help with their new ones. And they're putting a spit-shine on their social media accounts: Incoming Representative Brad Ashford , a Democrat, recently changed his Facebook profile picture from one featuring the Nebraska state capitol, where he has served since 2007, to a smiling shot of him holding an American flag. 
Representative-elect Tom Emmer, a Minnesota Republican, has spent the past few days working the phones—not dialing for dollars or votes but coordinating itineraries for his sprawling family's journey to watch him take his oath on Tuesday. "As my wife likes to say, it's organized chaos," he said. They have six sons, a daughter, and a bounty of extended family. He'll arrive Friday in Washington and spend the weekend giving family members Capitol tours.
"They all want to see where everything is and check out my office," he said.  
Emmer is part of a freshman class of 61 representatives and 13 senators. That tally, by Bloomberg Government, includes three people who were chosen in special elections, and then participated in the post-election lame duck session. Southern New Jersey's Donald Norcross, a Democrat, was sworn in Nov. 12, so he has already had time to notice one of the first rules of Washington: Everyone runs late. "I'm someone who shows up on time in a town that historically doesn't," he said.
His advice for the even newer members: Hire at least some employees with experience on the Hill. "The last thing you want to do is walk in with a complete freshman staff." 
The newbies also would be wise to spend this weekend perusing Craigslist and newspapers for housing if they haven't already. And they should brace for sticker shock; D.C. rental costs are among the highest in the country. Some members even sleep at the Capitol buildings to avoid paying for two residences. 
"I originally planned on staying in the office, but they're remodeling the Cannon [House Office] Building and they're doing most of the work at night," Georgia Republican Barry Loudermilk, who will represent a district near Atlanta, told the Marietta Daily Journal. 
Emmer, 53, said he's unfazed by jackhammers (again, he has seven children) and at least for now plans to sleep in his Cannon office.
For those who want to put down some roots in the Washington area, incoming-Representative Barbara Comstock is here to help. "I've told my colleagues I'm happy to give advice if they need it on school districts," the Northern Virginia Republican said, "although preferably they'd all move to my district." 
Since she's a local, Comstock can spend the weekend moving into her new office, also in Cannon. But she's also in the middle of a rapid-fire job change. She officially ends her tenure as a state lawmaker on Friday and will campaign all Saturday for the Republican candidate to take her seat. That election is on Tuesday.
She'll squeeze in a CNN interview on Sunday with incoming Democratic Representative Debbie Dingell of Michigan. The two hope to work together on women's leadership programs, Comstock said.  
Thanks to this freshman class, there will be a record 104 women in the House and Senate. That's 19.4 percent of the 535 voting members, and up from 100 at the end of the 113th Congress. Of the 84 women who will serve in the House, 62 are Democrats. The 22 Republicans include freshmen Mia Love of Utah, the first black Republican woman to serve in Congress, and Elise Stefanik of New York, 30, who becomes the youngest woman ever to serve in Congress.
Another young new member, Representative-elect Seth Moulton, a 36-year-old Massachusetts Democrat, will make the 450-mile drive from Salem to Washington on Saturday, his spokeswoman said. 
Moulton, who served in the Iraq War, is one of a declining pool of military veterans holding federal office. The 114th Congress will be the first since World War II that won't include any veterans of that global conflict. 
Some of the freshmen—the overachievers, perhaps—have already gotten into the grit of legislating. Representative-elect Carlos Curbelo, a Florida Republican, wrote an essay for the Miami Herald condemning President Barack Obama's moves on Cuba as "a blueprint for successfully extorting the United States." Buddy Carter, a new Republican representative from Georgia, has already dressed up his Facebook page with the kind of glossies fit for constituent newsletters. Here's one of him touring a Mitsubishi/Hitachi power systems plant in Pooler, Ga., last month.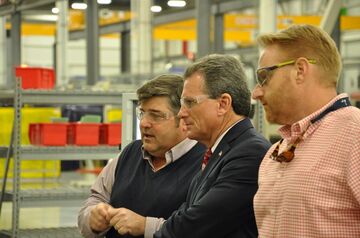 The newcomers won't be totally on their own. The freshmen have already had a chance to mix and mingle at orientation, and, of course, they know the other lawmakers from their home states. Emmer said he's been friendly with fellow Minnesota Representative Collin Peterson, a Democrat who has served since 1991. In a bipartisan gesture, Peterson offered Emmer his own ticket to the Tuesday swearing-in ceremony, so that the rookie could include more of his large family.
Emmer took it. "It was very kind of him to do that. You know, he loses nothing by being nice," the freshman from Minnesota said. "It's a good lesson for all of us."
Annie Linskey contributed to this report. 
Before it's here, it's on the Bloomberg Terminal.
LEARN MORE