Leaders Pay Tribute to Mario Cuomo
Officials praise the former governor's oratory and operatives recall the inspiration they drew from him.
by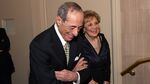 Former New York Governor Mario Cuomo's death on Thursday at the age of 82 spurred tributes from the highest ranks of Democratic politics, as officials praised his renowned oratory and operatives recalled the inspiration they drew from the three-term governor.
President Barack Obama said in a statement that Cuomo "rose to be chief executive of the state he loved, a determined champion of progressive values, and an unflinching voice for tolerance, inclusiveness, fairness, dignity, and opportunity. His own story taught him that as Americans, we are bound together as one people, and our country's success rests on the success of all of us, not just a fortunate few."
Former President Bill Clinton and former Secretary of State Hillary Clinton, who represented New York in the Senate, in a statement called Cuomo a "friend."
"When he placed my name in nomination at the 1992 Democratic Convention, he said government had 'the solemn obligation to create opportunity for all our people,'" Bill Clinton said in the statement. "In his three terms as Governor of New York, he honored that obligation."
House Minority Leader Nancy Pelosi, Cuomo's fellow Italian American, noted that the speech that elevated him to national prominence took place in the city she represents.
"He was a man of principle and eloquence, and all the world saw that manifested in his 'Shining City on a Hill' speech at the 1984 Democratic National Convention in San Francisco, which has been proclaimed as one of the greatest speeches of all time," she said in a statement.
In New Jersey, Republican Governor Chris Christie, who has worked closely with Cuomo's son Governor Andrew Cuomo, said in a statement that "our country and our region lost a giant."
The Republican who defeated Cuomo for governor in 1994, George Pataki, also paid tribute, calling him in a statement "a compassionate leader who possessed a soaring intellect. He was a great New Yorker who will be missed."
The compassion theme was also highlighted by the two most recent mayors of New York City: incumbent Bill de Blasio, who in a statement called Cuomo a "giant," and predecessor Michael Bloomberg (the founder and majority owner of Bloomberg Politics parent company Bloomberg LP), who said in a statement that Thursday, when Andrew Cuomo was inaugurated for his second term just hours before his father's death, may have been Mario Cuomo's "proudest day."
On Twitter, Obama-era political hands also offered examples of the lasting impressions Cuomo's rhetoric left in the party. "I was lucky enough to be in the hall in '84 to hear Mario Cuomo—a brilliant, passionate, gutsy leader, who knew why he was in public life," wrote former Obama adviser David Axelrod. "Mario Cuomo's 1984 Convention speech is in my top five of all time," wrote Jon Favreau, a former Obama speechwriter. "Used to read it constantly for inspiration."
Before it's here, it's on the Bloomberg Terminal.
LEARN MORE