Conservatives Don't Have the Votes to Unseat Boehner, but They're Chattering About It
A new poll says conservatives oppose him for speaker, but he's winning.
by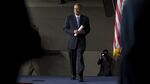 From Dec. 26-30, the polling firm EMC Research asked 602 "Republican voters and independents who lean Republican and voted Republican in 2014" what they thought of Speaker of the House John Boehner. They were not fans. Sure, they viewed Boehner favorably, 43 percent to 34 percent, but by a 60-25 margin they favored replacing Boehner with "someone new." By a 64-24 margin, they considered Boehner ineffective. 
The pollsters might have captured some Republican angst in the wake of a disappointing lame-duck Congress and the full funding of the president's immigration action. Yet the sentiment isn't new. Just as they did in the run-up to the January 2013 speaker vote, conservative insurgents are trying to convince themselves that Boehner can be overthrown. This poll was given first to National Review's Jim Geraghty, who reported it was commissioned by an organization called the People's Poll, and shortly thereafter it got front-page treatment from Breitbart.com. That site's reporter, Matthew Boyle, had covered the 2013 revolt against Boehner as if it was on the verge of succeeding. That did not chasten him. 
"The playbook they're using," Boyle wrote Friday, "is the same playbook as the effort that failed at the beginning of the 113th Congress, one where a candidate to challenge Boehner is not needed to beat him."
Same playbook, less favorable arrangement on the playing field. The 2014 elections were mixed for Boehner-friendly Republicans. Happy arsonists like Texas Representative Steve Stockman and Georgia Representative Paul Broun were replaced by equally conservative, less flamboyant members. Republicans picked up seats in blue Maine and Illinois and New Hampshire, adding to the Boehner bloc. At the same time, 10 of the 12 Republicans who had opposed Boehner for speaker are returning next week, joined by a dozen conservatives who said on the trail that they couldn't support the incumbent.
But the House Republicans start off this Congress with 246 seats. (They won 247, but New York Representative Michael Grimm is already quitting.) If every Republican who opposed Boehner in 2013 is joined by every new Republican on the record against him, Boehner gets 223 votes. He needs 218. He would seem to be in the clear.
That's why the insurgent conservatives are trying to create the impression of a real challenge. They're promoting the poll, they're tweeting jokes, they're going on the record against Boehner getting a new term.
"Like President Obama, Speaker Boehner must have heard voices that didn't vote," said Oklahoma Representative Jim Bridenstine in a statement Friday. "The CR/Omnibus legislation sufficiently undermines the checks and balances enshrined in the Constitution that it warrants my pending vote against the Speaker. Speaker Boehner went too far when he teamed with Obama to advance this legislation. He relinquished the power of the purse, and with it he lost my vote."
Before it's here, it's on the Bloomberg Terminal.
LEARN MORE