Five Guantanamo Bay Prisoners Headed to Kazakhstan
David Lerman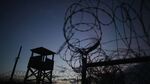 Five prisoners from the U.S. detention facility at Guantanamo Bay, Cuba, are to be released to the Kazakhstan government, the Defense Department said.
Asim Thabit Abdullah Al-Khalaqi, Muhammad Ali Husayn Khanayna, Sabri Muhammad Ibrahim Al Qurashi, Adel Al-Hakeemy, and Abdullah Bin Ali Al-Lufti will be released as part of an effort by President Barack Obama to speed transfers and close the facility.
An interagency task force reviewed their cases to determine whether the prisoners met the standards for release and examined issues including security before unanimously approving the transfers, the department said in a statement.
"The United States coordinated with the government of Kazakhstan to ensure these transfers took place consistent with appropriate security and humane treatment measures," the Defense Department said in a statement. Congress also was informed.
The detention center on U.S.-held territory still holds 127 prisoners, the department said.
With a little more than two years left in his presidency, Obama is still working to fulfill his campaign promise to close the prison, which President George W. Bush began using to hold suspected and accused terrorists after the Sept. 11, 2001, attacks. Finding countries willing to take in fighters who may still have terrorist sympathies has been a difficulty, as has opposition from U.S. lawmakers.
Previous Releases
The transfers, posted on a Pentagon website late yesterday, are the latest in a succession in recent weeks that included four prisoners to be repatriated to Afghanistan and six sent to Uruguay for resettlement.
Saying Guantanamo drew international criticism of U.S. detention policies and interrogation practices, Obama campaigned for president in 2008 promising to close the facility. On Jan. 22, 2009, Obama issued an executive order to shut the prison, which he later backed away from as congressional opposition mounted.
Congress reaffirmed a ban on closing the prison in the annual defense authorization measure for the current fiscal year.
'Irreducible Number'
"We are going to continue to place those who have been cleared for release or transfer to host countries that are willing to take them," Obama said in an interview with CNN that aired Dec. 21. "There's going to be a certain irreducible number that are going to be really hard cases because, you know, we know they have done something wrong and they are still dangerous, but it's difficult to mount the evidence" in a traditional civilian trial.
"So, we're going to have to wrestle with that. But we need to close that facility," Obama said. "And I'm going to do everything I can."
Among those awaiting a military trial at Guantanamo is Khalid Sheikh Mohammed, the alleged mastermind of the Sept. 11 attacks.
Democratic and Republican lawmakers have opposed prosecuting alleged terrorists in U.S. courts, saying civilian courts provide too many protections and they should instead be treated as enemy combatants. They also have warned that previously released detainees have rejoined terrorist groups and taken part in attacks on Americans.
The detention center is part of a naval base in Cuba that the U.S. has held since 1903. While the Castro regime in Cuba has long demanded that it be turned over, the Pentagon indicated that this month's move by Obama to normalize relations with the island nation won't affect the base in the near term.
Before it's here, it's on the Bloomberg Terminal.
LEARN MORE