The Top 10 Social Media Flubs by Politicians in 2014
Forget getting hacked—the likes of Twitter, Facebook, and Vine enable politicians to embarrass themselves without any help at all.
Katy Finneran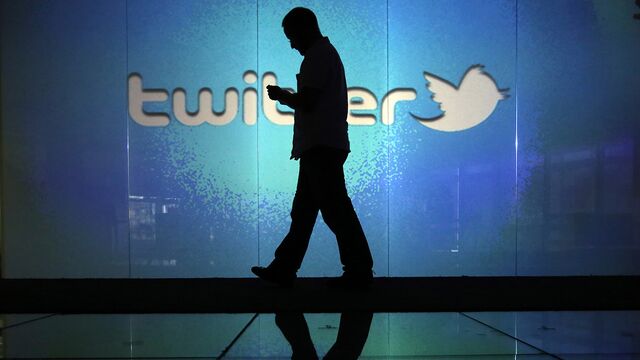 Your parents told you the Internet is a dangerous place full of strangers, porn, and offensive memes. If politicians' use of social media this year is a reliable indicator, your parents were right. To be fair, in a post-Weinergate society, political staffers have gotten better at vetting and retracting. In fact, some of the unfortunate posts below were even intentional. Even still—and even without including #IceBucketChallenge videos—this list may make you want to hide in a cave, far, far away from Snapchat and Dairy Queen.
1. @GovernorPerry's Dos Equis-inspired tweet

In August, just weeks after being indicted on two felony charges, @governorperry sent a tweet calling Travis County District Attorney Rosemary Lehmberg the "most drunk Democrat in Texas." The tweet was deleted, but thanks to screengrab-addicted millennials, it endures.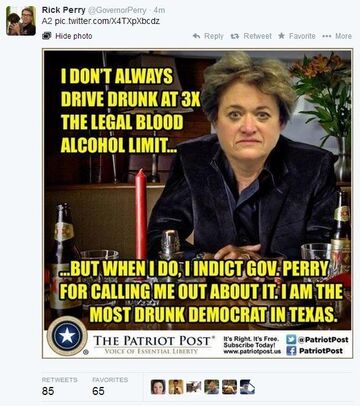 Perry, the Republican governor of Texas, followed up with an explanation.
2. Rand Paul's #HillarysLosers
The day after the midterm elections, Senator Rand Paul, a Kentucky Republican, posted photos of former Secretary of State Hillary Clinton with Democratic Senate candidates who lost, compiled in a Facebook album:
According to the social analytics tool Topsy, on a scale of 1 to 100 (negative to positive), the hashtag's "sentiment" score over the past 30 days is 35, indicating that users may have found it in poor taste. 
3. Michelle Obama's turnip Vine 
Like Paul's album, this post on the White House Vine feed was intentional—but that was just more fodder for the critics. 
On Bloomberg's "With All Due Respect," Harvard Lampoon president Alexis Wilkinson said, "I feel so bad for Michelle Obama, really, because she's a lawyer, she has so many degrees and she's sitting there and some social media intern comes up to her and is like, 'Here's a turnip and you have to dance with this.'" 
4. @ChuckGrassley's peculiar Dairy Queen tweet 
The Iowa Republican senator's tweet caused a blizzard of confusion. He later explained, "I wanted to give Windsor Heights Dairy Queen some credit for making good Dairy Queen and doing you know what. And what do you do at Dairy Queen, you eat Dairy Queen."  
5. @GovernorMarkell's raunchy Twitpic 
In a tweet announcing $5 million in funding for schools, Delaware's @GovernorMarkell accidentally uploaded a provocative photo of a young model in leather straps. While the scandalous image was deleted, it's still easy to find.
(To make matters worse, the Democrat's response tweet misspelled "inadvertently.") 
6. Congressional staffer cyber-bullies first daughters
Following the Obama daughters' appearance at the annual White House turkey-pardoning ceremony, Tennessee GOP Representative Stephen Fincher's communications director, Elizabeth Lauten, wrote a post asking the first daughters to "dress like you deserve respect, not a spot at the bar."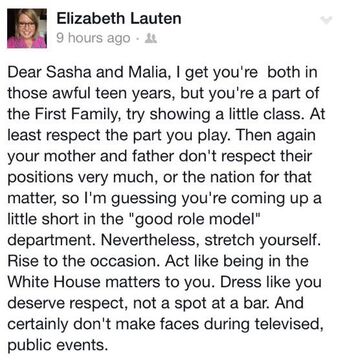 After screengrabs and backlash, the post was, predictably, deleted and the ostensible communications pro resigned.  
7. @MaryLandrieu's #KeystoneXL fail
A Louisiana Senate seat isn't the only thing Democrat Mary Landrieu lost. Apparently, she also misplaced a link. To make matters more embarrassing, the only text in the link was the word "fail." The tweet was deleted after 10 minutes.
(The above screenshot shows the "fail," but for those who don't have superhuman vision, here's a closer look.)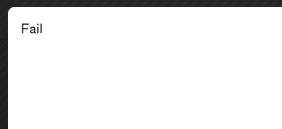 8. @GovChristie joins the marijuana debate

Damn you, autocorrect! Turns out, New Jersey Governor Chris Christie was actually trying to commemorate the two-year anniversary of Superstorm Sandy. The Republican's intended message: "We need to work together on things that have gone wrong and celebrate those that have gone right."
Christie later explained the typo in good humor. 
9. @MikeBishopMI inspires voters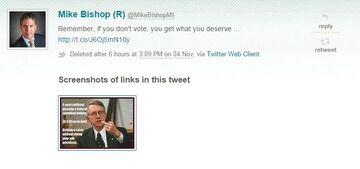 The Michigan representative-elect could have tweeted a photo of himself voting or maybe used the hashtag #IVoted or #GoVote. Instead, the Republican chose to flip his followers off. This one stayed up for six hours. 
10. Texas school board member dreams of 'white' Christmas
And then there are missteps in a category of their own. A Texas school board member named Chris Harris reportedly shared an image of a member of the KKK with the text "I'm Dreaming of a White Christmas." The post came on the heels of a Missouri grand jury's decision not to indict police officer Darren Wilson in the shooting death of Michael Brown. One of Harris's friends had shared her reaction to the Ferguson decision on Facebook, and Harris commented with this: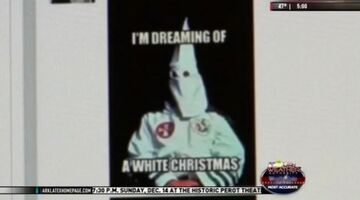 Following outrage from Facebook friends, constituents, and Internet users everywhere, Harris apologized on Facebook, claiming the post was "meant as a joke," with the defense that he "grew up in a black community." Harris later deactivated his Facebook account and resigned from the Hooks Independent School District.
Before it's here, it's on the Bloomberg Terminal.
LEARN MORE